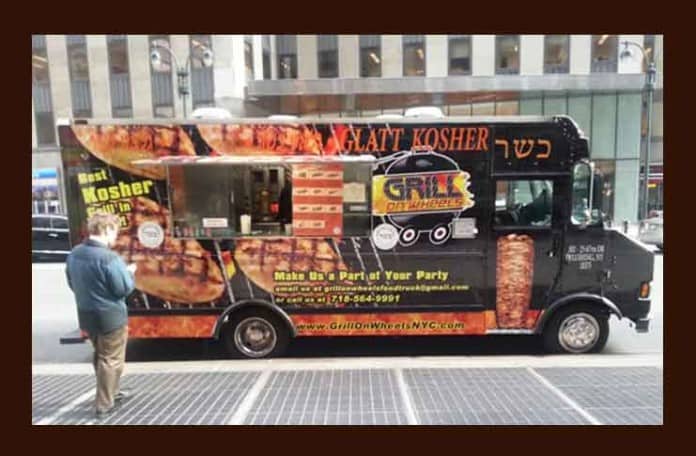 Wow, today's even nicer than yesterday.  Definitely a day to get some great street food from the vendors on the right and the food trucks below.
Don't forget to check the pink Mobile Munchies twitter feed on our homepage before heading out. Wafels & Dinges already had to move twice today – once because of a film shoot and once from a complaint, and the Schnitzeltruck had to move too. Wafels & Dinges are now on 9th Ave & 58th St and Schnitzel & Things is now on 52nd & Lex.
waffletruck – So…we lied…again. Because of a complaint we're on 9 Ave & 58 St til 4:30pm. An April shower impression=1 free dinges
waffletruck – (old tweet)So…we lied. Because of a film shoot, we're now on 51 btwn 6 & 7 til 4:30pm. Give us your April shower=1 free dinges…that hasn't changed.
schnitzeltruck – Slight change of plans.. Instead of 54th & Lex we are on 52nd & Lex.. Be ready soon.. Get that Friday sunny schnitz!
TheTreatsTruck – 11:30-3:30 45th and 6th ave, 4-6:30 5th ave btwn 21st and 22nd. lots of treats!
VeganLunchTruck – Parked on Sinatra between 2nd and 3rd. This Weeks Specials Special Sandwich Tarragon pesto grilled tofu with arugula, grilled onion, and ancho chili…
schnitzeltruck – Vassup to all our schnombies. Today is judgement day on 54th & lex. Come show your support for the humble schnitz truck.. Be there @ 11:30
StreetSweets – Good Friday morning. St Sw will be on 50th St just west of 6th Av. Come on by and say hi. Stop by for something delicious.
CalexicoCart – Happy sunny Friday everyone! Both carts are out today and offering homemade chorizo as today's special. Enjoy.
fritesnmeats – Hey NoMaD! Burger Love is in the hood! Were on Park bet 26 & 27! Get ur weekend off to a Burgerific start. The El Cubano -seasoned Angus patty, ham, gruyere cheese, pickles & sassy sauce is insane! The cherry, walnut breadpudding is mind-slamming! Preorders til 1130. 917.292.9226
biggayicecream – Plan for Friday (subject to Acts of Godzilla): USQ from 1ish til 3, then I need to close up and head to Lucky Rice in Dumbo. Watch tweets.
RickshawTruck – Friday!!!! Midtown west 45th + 6th. Also, chelsea 15th + 9th! We have a ducky friend on board!
CupcakeStop – Broadway&Spring w/ Red Velv,Funfetti,Nutella,Oreo,Van Choc,Choc PB Swirl,PB Cup,Starry Night,French Toast,Mocha,Lemon & Brownie Cream Cheese
BistroTruck – Had a good news this morning…the truck is finally running. We'll keep everybody posted…check out the updated tweets.
New Jersey Food Trucks
thekrave – 4/30 – 12:00-2:15, Hudson between York & Grand. 12:00-2:00, Hudson & Essex, Inside Liberty Towers Gourmet….
laspicetruck – come show your support for "the little white truck" New York Times will be with me today taking pictures. Woop Woop!! Jersey City rocks
TheTacoTruck – Lunch today in Hoboken @ Sinatra and 2nd from 11:30-2:30. Call ahead 201.577.4214