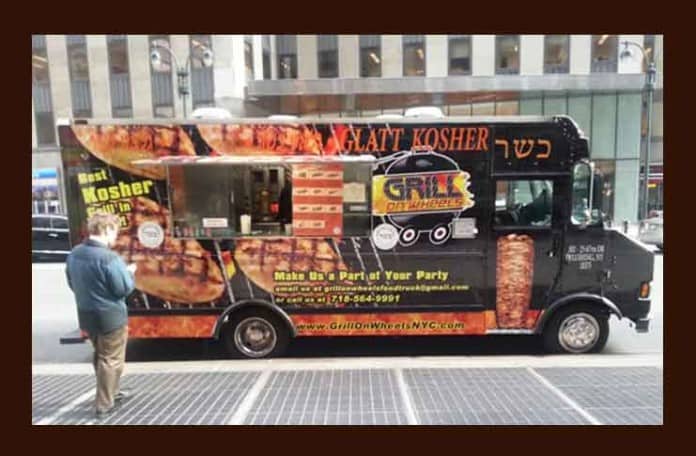 It's Friday, and a pretty nice day in New York.  Here's where the Mobile Munchies will be today:
fritesnmeats – Good Mornin' Tribeca! We're here to kick off ur weekend! Greenwich & Chambers. Give a holla or stop by 917.292.9226
schnitzeltruck – Dumbo you ready for schnitzel Fridays again? Spring is coming and so is the schnitz.. Halal guys will have to step off 🙂 11:30 at location.
CupcakeStop – Broadway and Spring w/ Red Velvet, Black Forest, Fluffernutter, Funfetti and introducing Angel Food!! http://tweetphoto.com/13314155
VLAIC – Kangaroo is happily hopping on the spot @ 5th&15th. The Panda is plopped down on 6th&22nd, then will potter over to 23rd at 5th at 10-4pm:)
StreetSweets – Good morning. St Sw will be on 50th St just west of 6th Av (btw 6&7Av) today opening at 8:30a, we look forward to seeing our 50th St friends
waffletruck – Happy Friday! We're on 8th Ave btwn 56 & 57 til around 4:30pm. Deliver us a line from your favorite oscar-winning movie for 1 free dinges.
nyccravings – making our way to 48th…should be readt by 11:30. we will not be open on monday 3/8.
RickshawTruck – Hey midtowners! We are on 45th and 6th! We love fridays! Here from 11-3
CalexicoCart – Both carts are out and bringing the heat. Come and get it!
New Jersey Food Trucks
thekrave – Location 2: Hudson and Harborside Pl, 12:15-1:30 http://tumblr.com/xl1730qy2
thekrave – Location 1: Hudson and Essex, Inside Liberty Towers Gourmet, 11:45-2:30 http://tumblr.com/xl1730qo
TheTacoTruck – Lunch in Hoboken today on Sinatra Dr and 2nd St from 11:30-2:30. Call ahead 201.577.4214 http://fb.me/648h9EW
laspicetruck – lunch in Jersey city on Hudson and york 11:45 chicken and chorizo, caramel and choc mini cakes, valhrona brownies.
2 new tweets.
laspicetruck – We couldn't find a leprechaun for saturday, but come celebrate the party with LST in Hoboken anyway, bars open 9:00am! beer/pulled pork!!!!
As a reminder, Hoboken celebrates St Patrick's Day earlier than everyone else.  Thousands are expected Saturday, and the La Spice Truck will be serving pulled pork.
Check the pink Mobile Munchies twitter feed on our homepage for the latest information.