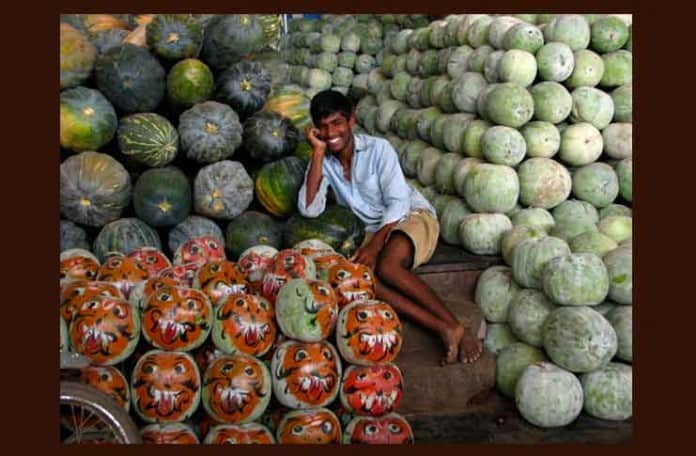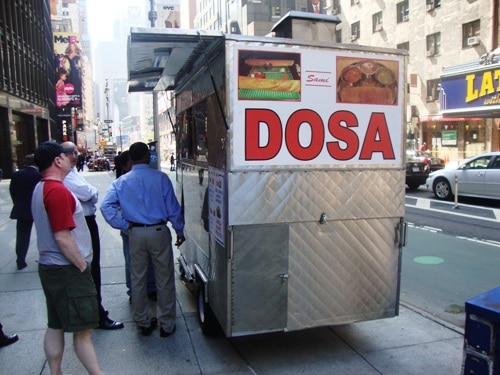 I previously enjoyed some dosas from Velu Sami of the Sami Dosa cart when it was on Broadway & 53rd St, across from the Late Show at the Ed Sullivan Theater.
Velu moved his cart to the SW corner of 39th & Broadway a few months ago, and I haven't had a chance to stop by his new location, until now.
Today's Lunch is a fried kati roll and a somosa from the Sami Dosa cart.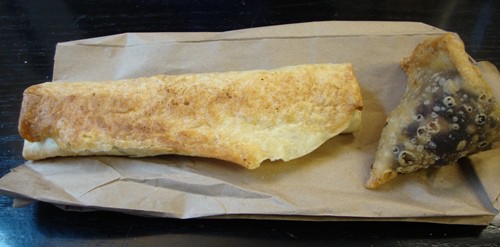 When Sami Dosa was further uptown (walking distance from my office), he was just starting out and only had a few dosa dishes.  He definitely didn't have kati rolls at that time, and none of the kati rolls I've had elsewhere were ever fried!
By the way, all the food at Sami Dosa is vegetarian, but don't let that deter you if you're a carnivore (like me).  The meals here are substantial and filling.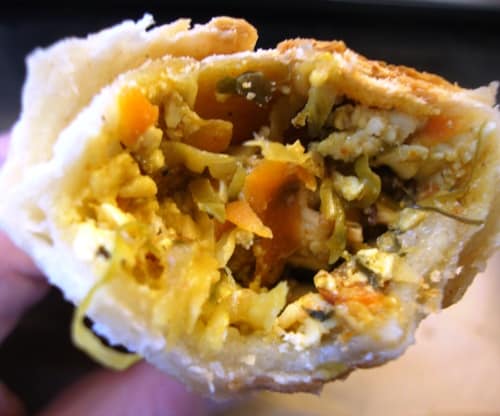 Instead of just rolling fillings inside a warm paratha–type bread, Sami Dosa uses a phyllo-type dough that was light and flaky, even after it was fried.  I've never had a fried kati roll, and it was delicious this way.
Inside the dough was a mixture of curried carrots, peas, mild cheese and hot chili peppers.  The filling had a nice curry flavor, but wasn't too spicy.  Very nice.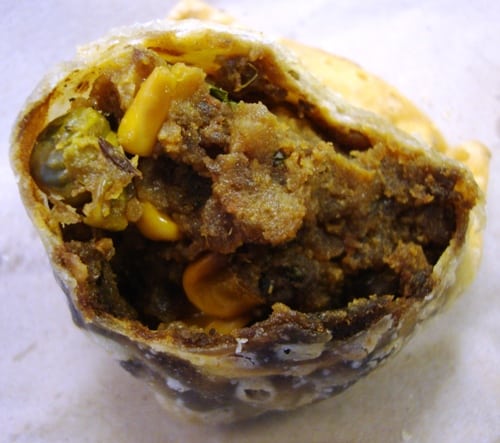 The last time I was at Sami Dosa, I had a somosa, but it was quite different from this one.  The last one was more traditional, with a curried potato filling.
This somosa had a dark brown filling that appeared to be pureed beans, or potato with pureed beans mixed in.  It was difficult to tell, and one downside of Sami Dosa is his very limited knowledge of English.  He is super friendly and nice, but it's tough to get specific answers to questions.
There were corn kernels mixed in with the filling, and the somosa wrapper was fried nicely.
Today's Lunch was pretty good.  I really liked the fried kati roll, but the somosa was average.  If you stick with the dosas and kati roll, you should have an enjoyable lunch at Sami Dosa.