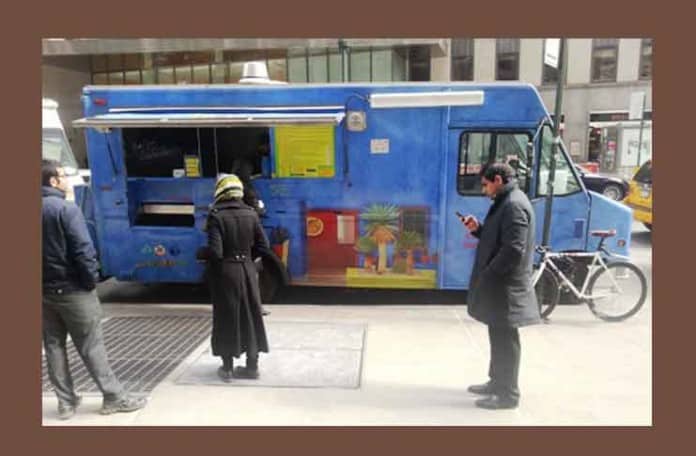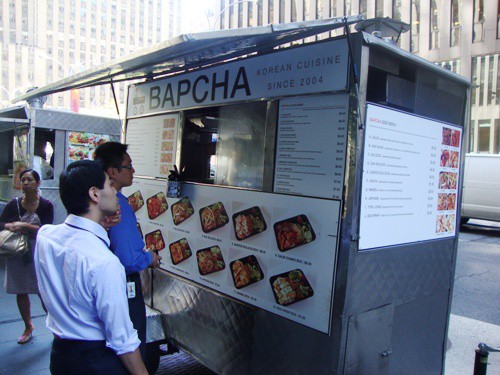 It's not a pretty day out, but most of the vendors are working today, and a bunch are working together to improve their working conditions.
The NYC Food Trucks Association was recently launched, and currently has 32 trucks as members. Their first orders of business are to push for speedier licensing and the right to park and vend at metered spots.  Good luck all.
Make sure to check the Mobile Munchies twitter feed before heading out, in case anyone had to move at the last minute.
biandangnyc
Water Street btwn Broad Street & Vietnam Veterans Plaza: Serving from 11:30-1:45! Come early!
UncleGussys
Not such a bad morning, we made it to 51st and park, and were cooking up a whole line of deliciousnessss 🙂
schnitznthings
Morning guys:) truck will be out today on 26th & park from 11:30-2:00 and store will be open at 11:00! Double whammification of Schnitz! :))
waffletruck
Snow (last act) & Wafels at 60 Wall Street. CARTification: Goesting on Greenwich&Murray. Free "playground" waffle here too with a wafel purchase. Just mention Belgian Restaurant Week.
fritesnmeats
Lunch today @ HUDSON & KING burger of the week THE MERITAL BLISS (grassfed angus patty with cream cheese jalapeños & applewood smoked bacon) preorder 9172929226
#mobilesecret
joyridetruck
Nothing overcomes bad weather better than good oatmeal. Come try our warm organic stee-cut oatmeal this am at Hudson&King.
SweeteryNYC
Come on, its not really snowing is it? Sweetery is on 52nd & Lexington Av until 4p stop by and we'll warm you up.
bigdsgrub
3/23 (Wed) Sorry Ya'll we are out today for some maintenance! We will be back out tomorrow at 31st and Park!
KimchiTruck
Morning all! We're off the road today but back tomorrow in Soho.
PapaPerrone
We will NOT be on 55th we will be staying local see you on Sausage Thursday.
New Jersey
VeganLunchTruck Only a couple more days until we are back for the season! For now, visit Funk and Standard in Red Bank NJ for our… http://fb.me/I6HGDFQq