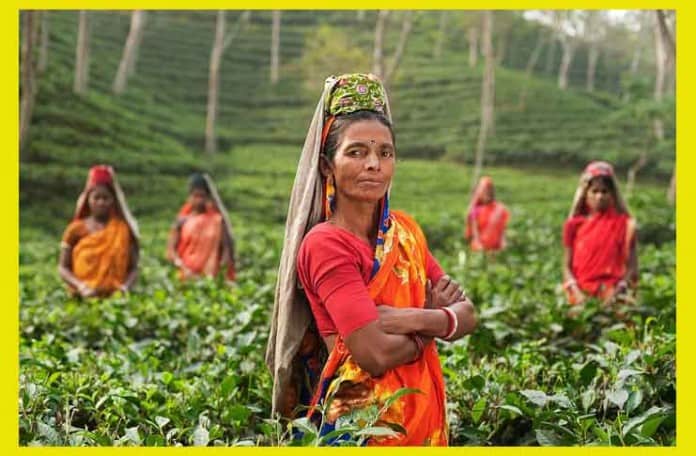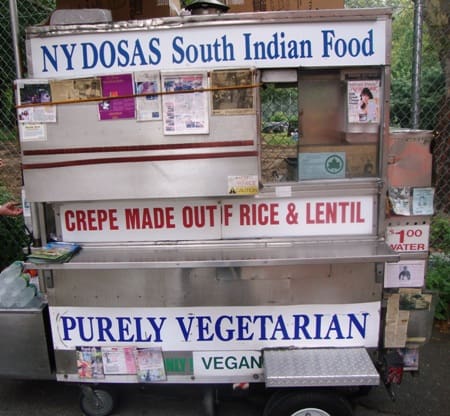 I happened to be near Washington Square Park around lunch today, which is always a good excuse to visit Thiru at NY Dosas.
Most people familiar with street food in New York are at least aware of NY Dosas, even if they haven't tried them yet.  Thiru won the Vendy Cup in 2007, and his cart is on Washington Square South near Sullivan St from Mon through Sat (11am-4pm).
NY Dosas is totally vegetarian and vegan, which is not usually my cup of tea, but Thiru's food is so spicy and full of flavor, I don't even notice the absence of meat.
I've had several lunches from here and wanted to try something new, so I asked for a Jaffna Lunch ($6) for Today's Lunch.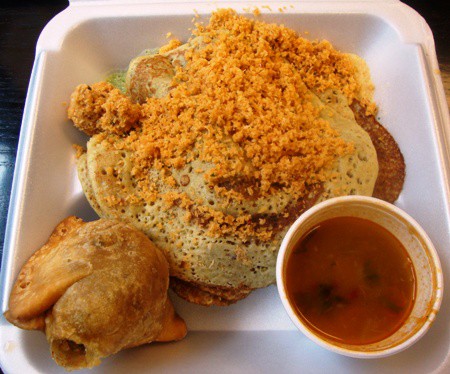 The Jaffna Lunch is comprised of 4 pancakes made with a rice and lentil batter, a samosa, and a cup of sambaar (bottom right), which reminded me a bit of vegetable soup.
In between the pancakes was a spicy dried chutney, and it was topped with flakes of a coconut flavored dried chutney.
You can barely see it in the photo above, but under the pancakes (top left) was a green mint cilantro chutney that was very spicy and vibrant.  On the other side (top right) was a creamy version of the coconut chutney.  It was milder than the mint cilantro chutney, and had a strong coconut taste.
Peeling off the pancakes from the pile and picking up the various dried and creamy chutneys was fun and delicious.  It was certainly different from the lunches I usually have.
The samosa added some weight to the meal.  The deep-fried shell was stuffed with mashed potatoes, chunks of potatoes and a few peas.  It had a curry flavor, and was a little spicy, but not as much as the mint cilantro chutney.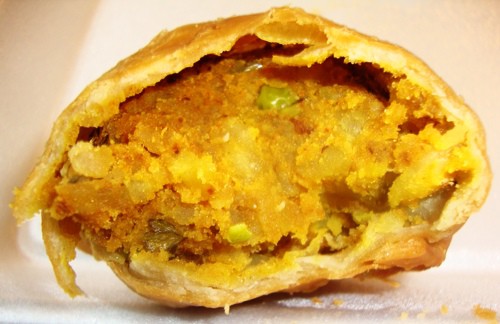 Today's Lunch from NY Dosas was excellent.  Thiru's food can get pretty spicy pretty quickly, even if you ask for it mild.  His "mild" is what other vendors call spicy, and his "spicy" is a killer.
I always end up satisfied at the end of a meal from NY Dosas, and am glad he sets up shop within walking distance of where I live.