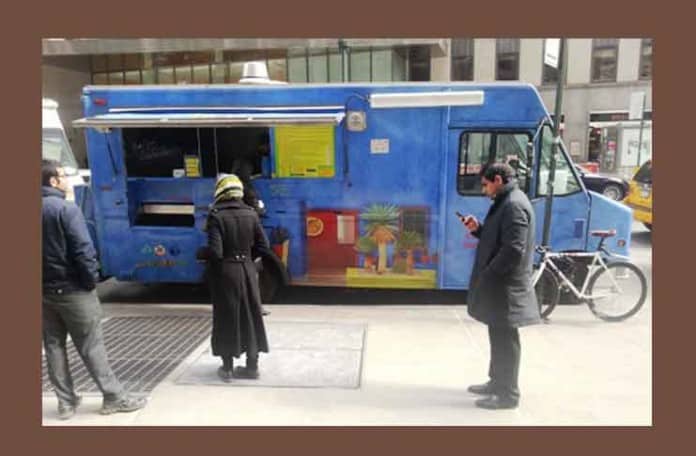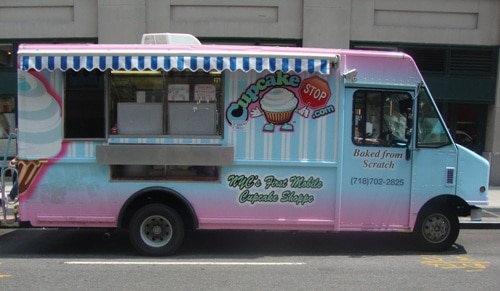 It looks like the rain will be gone for lunch today, so you can enjoy great New York Street Food from the vendors on the right and the trucks below.
There has been a lot of police and film crew activity today, leading to some variations on the usual Thursday spots.  Make sure to check the Mobile Munchies twitter feed before heading out for the latest info.
CupcakeStop HELLO FANS!! Today our trucks are located at Water St and Maiden Lane AND at Varick St and King St. The flavors at both trucks are: Red Velvet, Oreo, Chocolate PB, Coconut Mango, Mint Julep, Black Forest, and Vanilla Raspberry. Yummies. Enjoy =-D
LukesLobsterNY Today we are on the N.E. corner of 53rd and Park ave. Bring your umbrella and appetite.
LICfoodtruckLOT Thur 8/18: We've got an awesome mix of trucks today! @fritesnmeats, @RickshawTruck & @VLAIC !!! Dumplings & burgers & ice cream, oh my!
KimchiTruck Good morning! Lunch at Hudson & Charlton 11:30-2:30pm. Dinner @NYBG 6-9pm.
joyridetruck We are being moved from 52nd and Lex, we'll let you know where we land.
Valduccis Good Morning @NYC, We're serving at 68th & York in front of Cornell. Dr. Kildaire, come get your square!
CrispOnWheels Yay! We're on 26th and Park today. First time back in a while!
schnitznthings Morning errbody. Truck will be out and about. You know where to check for it:) from 11:30-2 sharp. Then off to @nybg 4 water Lilly concert! As for store, rocking out from 11:00-9pm. Specials in the house:) come gets it! Order on seamless, grubhub or call 212-905-0000 4 deliveries
gcnyc1 Gorilla Cheese NYC Morning Cheesers. We'll be at 55th &6th today from 11-3. cheddar bacon & tomato and our new mac n cheese wedges. we'll be at the High Line for dinner, snacks & drinks all night. beer & a grlld cheese sammie – that's a summer night!
LCBBurgerTruck The LCB Burger Truck is located at 111 Wall St today. See you there for a juicy 100% All Natural Grass Fed Steakburger or Sandwich!
New Jersey