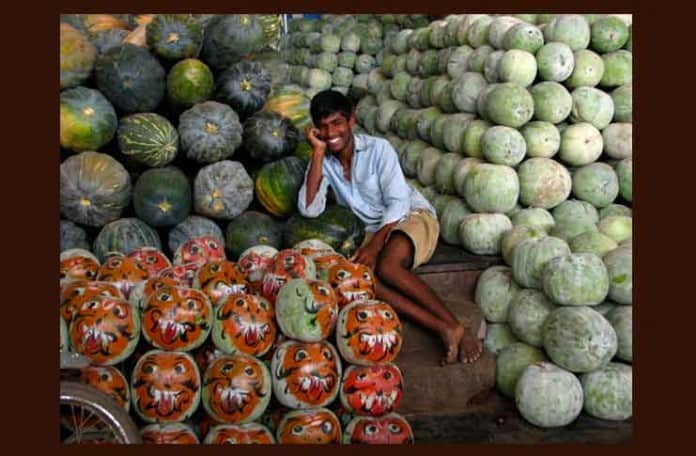 I met my brother for lunch today.  He works in the building right across Broadway from the Late Show – and right where the Sami Dosa cart is situated (between 53rd & 54th St).  I told him about my lunch from Sami Dosa a few days ago and he wanted to try it too.  I also wanted to check out another dish, since I only tried the mysore masala dosa previously.
Today's Lunch is the chili & onion uttapam from Sami Dosa ($5), with a cameo appearance by the masala dosa ($5) that my brother ate.  We also had a couple of samosas to check them out.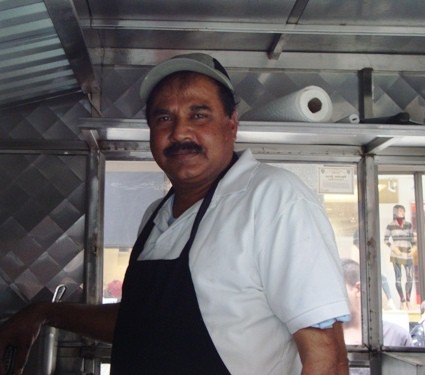 The first thing Sami did is pour some lentil batter on the grill.  If a dosa is similar to a crepe, then uttapam is more like a pancake – but with goodies on top.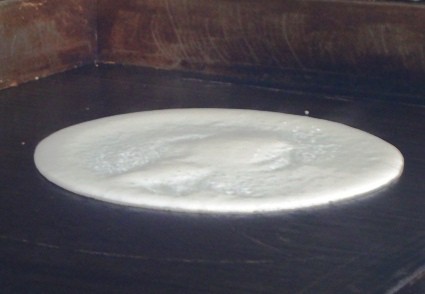 After Sami poured the batter, he added chopped onions, spiced potatoes and chili powder.  Unlike dosas, uttapam are not folded over – they are eaten open-faced.  Here's what is looked like just before I dug in, with the samosa on the top right of the picture.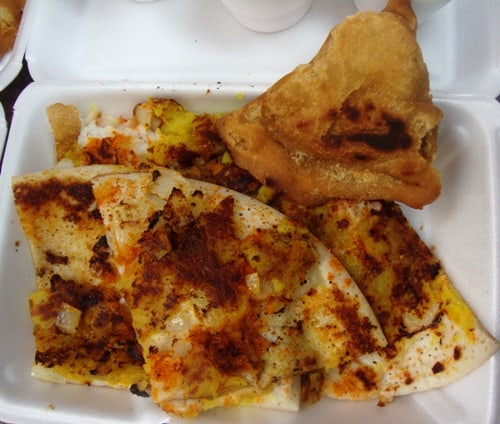 The chili and onion uttapam tasted very good.  It was soft, fragrant and semi-spicy; the mysore masala dosa was much spicier.  It was cut into quarters, and was pretty easy to pick up.  It was also less oily than the dosa I had a few days ago.  Definitely an enjoyable lunch.
The samosa tasted pretty good, but it was cold.  The samosa was fairly large and filling, but it would have been much better if it was hotter.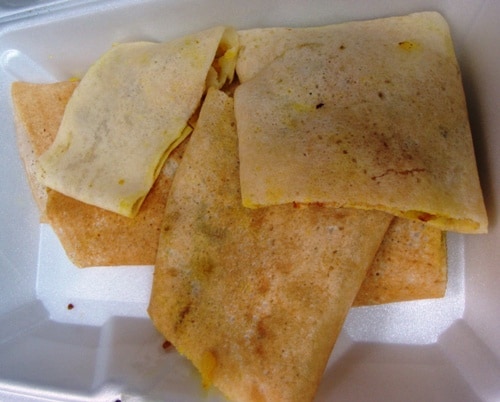 The masala dosa was good too.  It was similar to the mysore masala dosa, but without chili paste inside or chili powder in the batter.  For those of you who don't like spicy food, this would suit you fine.  It was also less oily than the mysore masala dosa a few days ago.
Today's Lunch also gets a 7.5 out of 10.  The chili & onion uttapam was an 8, but the cold samosas lost a little ground.  I will be returning to the Sami Dosa cart again, hopefully to try the biryani.  If you're interested in trying the biryani, he didn't have it today, but Sami says he usually has biryani towards the beginning of the week.