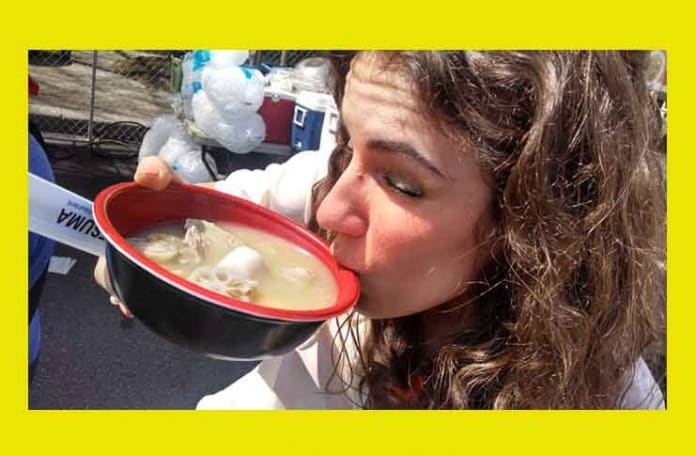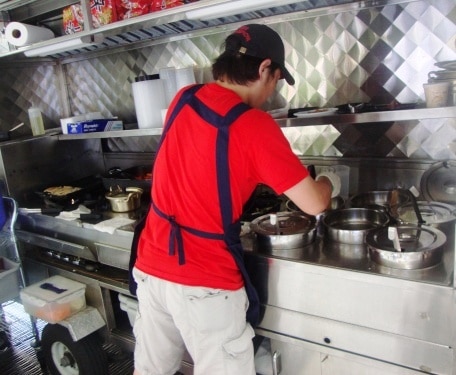 I've had some nice lunches from the Bulgogi Cart on the north side of 49th St between 6th & 7th Ave.  They opened a Korean Noodle Soup stand right next door to the cart about 2 months ago, and I was finally able to get there today.  How was it?  Click through to find out.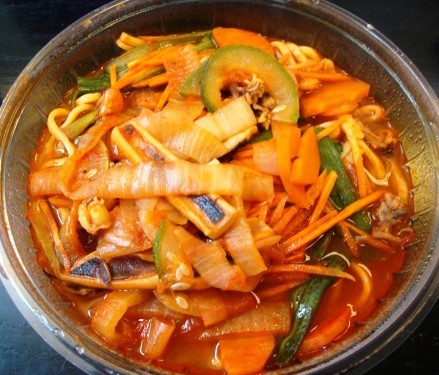 You're probably thinking, why do I want hot noodle soup in the summer?  Well, if you spent the morning in my office, you would want something hot for lunch too.  It's kept pretty cold here, and I even have a light sweater hanging on the back of my door which gets used on occasion because of the a/c.
FYI, they also have cold noodle dishes available for those of you with normal a/c in your office.
For Today's Lunch, I wanted something hot and spicy.  The vendor suggested jjamppong, a spicy Chinese-style noodle soup with veggies and seafood ($7).  They also had dumplings for $3, so that was a given.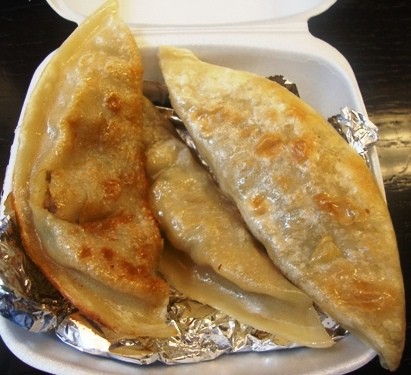 First up were the dumplings – 3 fairly long and thin, lightly pan-fried dumplings.  They had minced pork, onions, scallion and cellophane noodles inside and were pretty good.  They still had a bit of cooking oil on them, but were decent.  Some soy sauce helped too.
The jjamppong was loaded with veggies on top – carrots, scallions, onions and zucchini.  The seafood was mostly squid and a couple of small shrimp.  Some of the squid was chewy, some was tender.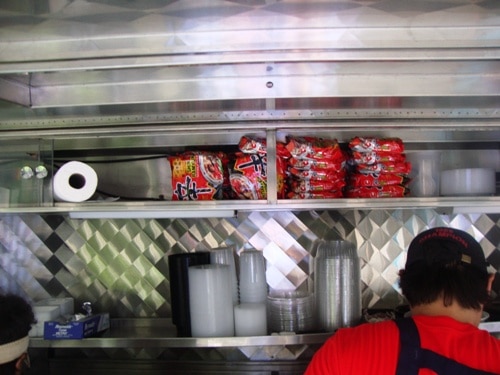 They use packaged noodles for the noodle part of the dish (see picture above), but the noodles retained their springiness.  They were not overcooked, and had a nice eggy flavor to them.
The soup itself was quite spicy, and had a strong seafood flavor.  If you're not into seafood, try another dish.  There were plenty of other dishes that were not seafood or spicy.  In fact, only about 4 of the approximately 20 dishes were spicy or had seafood.  Among the choices were ramen, udon and soba noodles with chicken, beef, veggies, etc.  Everything was in the $6-$8 range except side dishes, which were $3.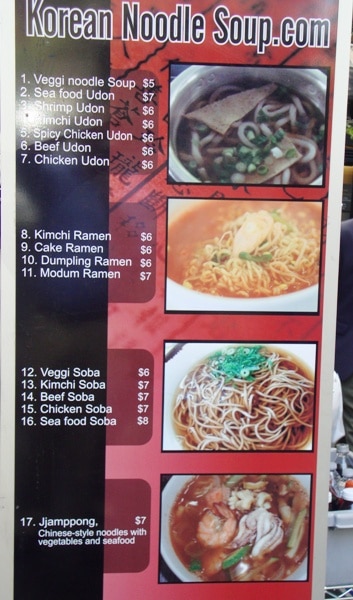 Today's Lunch gets a 6 out of 10.  As I got down into the middle of the soup, the fishy flavor got to be a bit too much – and I love seafood.  The noodles also started getting too soft and a little chalky.  I would like to try some other dishes of theirs because a Korean noodles soup cart is perfect for the cold weather.  Guess I'll spend the summer finding out what I like and don't like at this cart so I can be prepared when winter arrives.