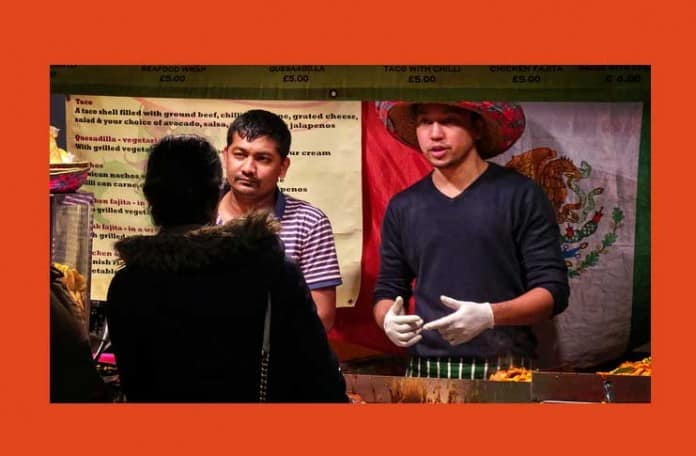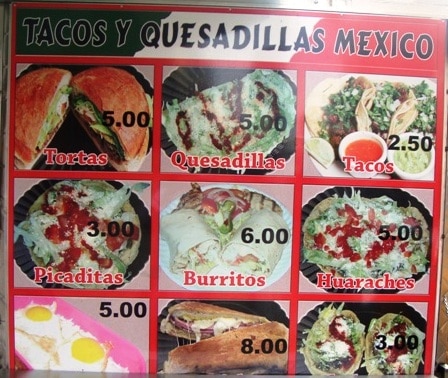 I wrote about a fairly new cart about a month ago called Tacos y Quesadillas Mexico that is on 9th Ave between 58th & 59th St.  While it's out of the way for many of the people working along 6th Ave or Park Ave, my office is near Columbus Circle, so I was excited to have a good Mexican cart within walking distance of my office.
One of my unofficial rules is to try any dish that's in a food truck or cart's name, and I tried three different tacos last time, so it was a quesadilla this time.  Last time, they were out of chicken tinga, but I had better luck this time, probably because of the bad weather.
Today's Lunch is a chicken tinga quesadilla, with a little chorizo that I asked him to put in as well ($5).  This was a good price for lunch, but how would the quesadilla be?  Click through to find out.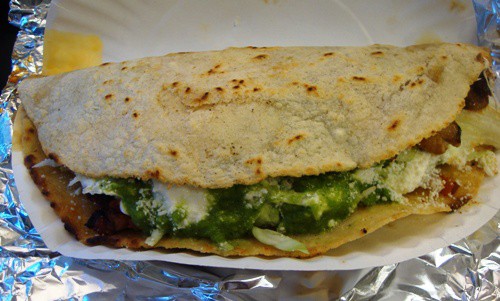 After unwrapping the foil, I saw this was a pretty thick and stuffed quesadilla, and the tortilla was nicely grilled and a little crisp.  I opened up the tortilla to see what was inside and found chicken tinga, chorizo, lettuce, a mozzarella-type cheese, onions, guacamole, salsa verde (at my request), and even a bay leaf that was in the chicken tinga.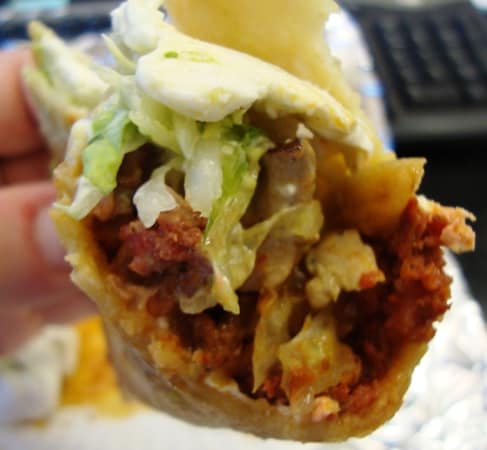 I can see why they run out of chicken tinga sometimes.  It's chicken stewed in a spicy Mexican tomato-based sauce with onions and herbs, such as bay leaves.  It was a bit spicy, but not deadly, and the chicken was really tender from being stewed for a while.
I'm glad I asked for a little chorizo to be included because it added another dimension to the quesadilla – a porky, sausage-y dimension – one of my favorites.
And while the chicken tinga and chorizo were spicy but not deadly, the salsa verde was killer!  This was definitely one of the spiciest hot sauces I've had from a Mexican cart – and most of them are pretty spicy.  Nice job on the salsa verde!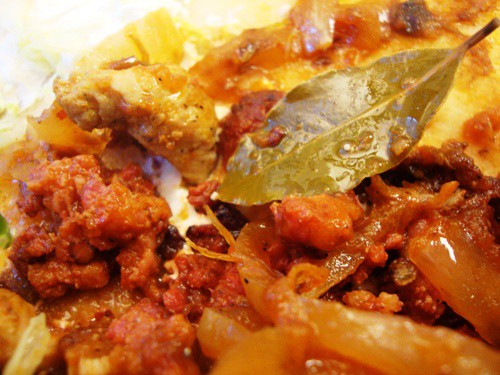 One problem the quesadilla had was too much liquid.  You really had to eat this with a fork and knife, which were not included.  When I picked up the overstuffed quesadilla, a stream of liquid came out the other end.  The liquid was mainly sauce from the chicken tinga, but it made this lunch difficult to eat.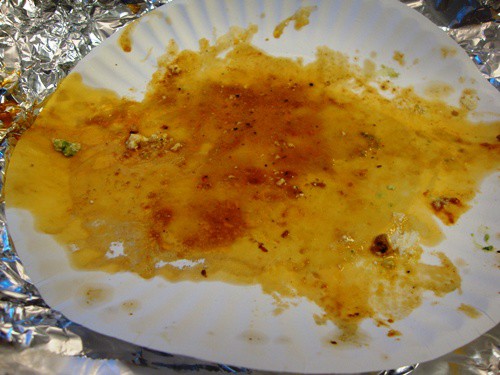 Today's Lunch gets a 7.5 out of 10.  The chicken tinga and salsa verde were very good, but it was very messy to eat.  Even with a fork and knife (which weren't provided), it would have been tricky not dripping on my shirt.  There was a lot of food for $5 and it tasted good, but it could easily lose some value if you have to incur dry cleaning bills too.
When I was waiting, one of the other guys I spoke with said their huaraches are really good, especially with carnitas (roast pork).  Next time I need a quick lunch and want Mexican food, that's probably what I'll try.