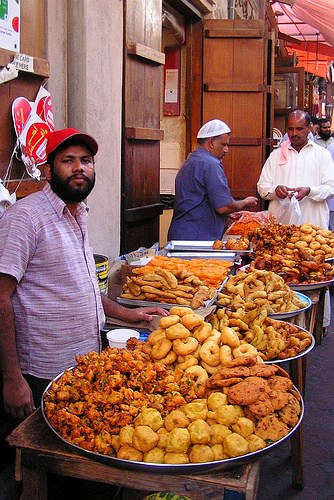 If you would like to learn how to cook Indian street food, here's another option in addition to the Indian street food cooking class we took at Miette Culinary Studio earlier this year.  We really enjoyed the class at Miette, but if you're in Brooklyn, this class might be closer to home.
Ger-Nis Culinary & Herb Center in Brooklyn is offering a class that delves into the street food culture of India.
India native, Suvir Saran, is teaching all about the unique and creative food found on the streets of India with recipes that he grew up eating with his friends and family.
All countries have their own version of street food or fast, quick food, and India is no exception. A quintessential Indian street food is Chaat which can be found in dozens of varieties and is usually just a mess of fried something, whether it's dough, potatoes, chickpeas or some other starch and then flavored all kinds of ways — sweet, spicy, salty, soft, crunchy, sour, and nutty.
Cookbook author, culinary instructor and working chef, Suvir Saran is a respected food authority, making great contributions to furthering appreciation of Indian food in America. He has been featured in publications such as Food & Wine, Bon Appétit, Fine Cooking, and Travel & Leisure, and has many television and radio appearances on The Food Network, "Next Iron Chef", "The Martha Stewart Show," and NBC "Today" show. He is the author of two cookbooks, Indian Home Cooking and American Masala and the owner of two restaurants in the Tri-state area, Devi in Manhattan and American Masala in Jersey City, NJ.
When he is not on the road teaching and learning, Saran enjoys working on his 68-acre American Masala Farm in upstate New York. http://www.suvir.com/
Class Recipes: Chaat Masala, Cheelas, Crispy Okra Salad; Manchurian Cauliflower; Puff Pastry Samosas with Green Peas; Drink: Mango Lassi
Class Type: Local Chef and Series, hands-on cooking class
Class Notes: Take home a mango!
Date: Tuesday, March 1, 2011 from 6-9pm
Place: Ger-Nis Culinary & Herb Center 540 President St, Suite 2E, Brooklyn, NY 11215
Cost: $50 per person.  Buy tickets here.