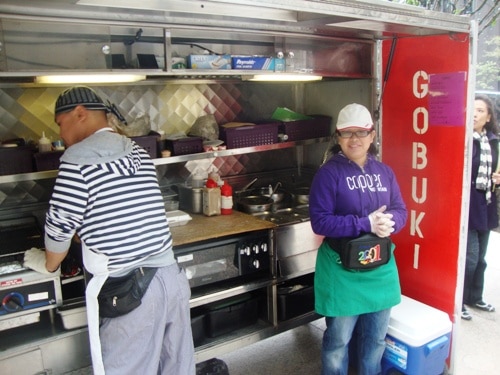 The expansion of Korean street food in NYC continues unabated.  On the SW corner of 52nd St & 6th Ave is a relatively new cart called Gobuki.  They have been around for a few months, and have a more traditional menu than the Korean food trucks.
You won't find any Korean tacos or burritos here.  It's all about galbi (marinated short rib), bulgogi (marinated rib-eye) and spicy chicken over sticky white rice.  The one concession to American tastes is that you can get any of the meats on a baguette for $1 less.  The full menu can be seen here.
I've had a lot of beef lately, and decided to try the spicy chicken over rice for $6.  The dumplings were also calling my name, so I placed an order for $4.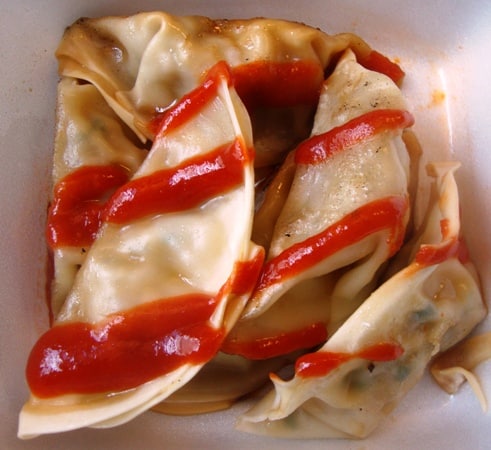 I started with the veggie dumplings.  In addition to soy sauce, I asked for hot sauce.  The dumplings were lightly fried and had a vegetable filling, but it wasn't pieces of veggies.  It was more like a mash of veggies, and there appeared to be some tofu in there as well.
These weren't the best dumplings I've ever had, but they were decent, and with 6 dumplings for $4, it was a good value for the price.
An even better value was the spicy chicken over rice.  There was quite a large amount of chicken for $6, which had a spicy red paste on it.  Mixed in with the chicken were some pieces of kimchi, and I asked for hot sauce on the chicken as well.
It might look like hellfire, but it wasn't brutally spicy.  If you don't like spicy food, you might want to stay away from this dish, but if you like spicy food, it wasn't as hot as it looks.  To put it in perspective, if you like mildly spicy food, this dish would be fine if you don't get the added hot sauce on top.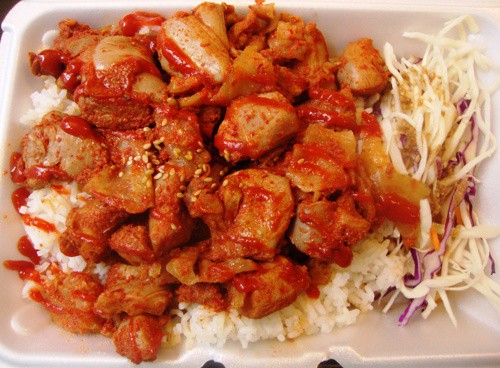 The white rice was a good base for the chicken, but a baguette would be good too, if you're more in the mood for a sandwich.
In fact, the slaw on the side of the platter would be a nice topping on a spicy chicken sandwich.  The slaw was crunchy and had a light sesame dressing.
We would recommend Gobuki for lunch.  The food is good, and it's a good value too.  They don't tweet or have a website, but you can find them on the SW corner of 52nd St & 6th Ave every weekday for lunch.  I believe they close around 3pm.