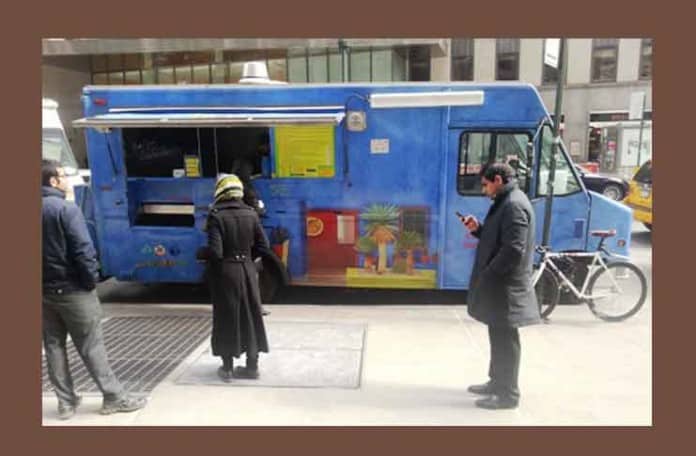 Another nice day out to enjoy some great New York Street Food from the vendors on the right and the trucks below.
We don't have a lot of time to chat today, so please check the Mobile Munchies twitter feed before heading out in case anyone had to move at the last minute.  Last we checked, Schnitzel & Things is looking for a new spot due to a movie shoot.
joyridetruck
We're at our Tuesday spot, 26th and Park from 7:00am-6:00pm. No pastries today 🙁 But we do have our famous apple cider donuts! Have 1 with your coffee. It's sure 2 be delicious.  Come get your @
stumptowncoffee
on!
fritesnmeats
We r on 52nd & park av for lunch today. Burger of the week THE BYMARK! seasoned angus patty Brie cheese with marinated mushrooms & a lemon garlic aioli preorder 9172929226!
#mobilesecret
CupcakeStop CupcakeStop Trucks in Park Slope Brooklyn on 7th ave bet 5th and 6th sts and in NYC on 7th ave and 29th st! Menu: RV,Funfetti,Vanilla Choc, Almond A'more, Chocolate Chocolate, Triple Choc, Chocolate Oreo, Peanut Butter Swirl and EGGNOG SPICE!
schnitzeltruck
Mornin midtown! Ready to get your turkey schnitz on?:) it's excellent! Filming going on, on 46th b/w 5th & 6th.. Will update location once we find a spot. We'll try to be around that area.  Schnitz ya later:)
cakeandshake
New Cake Alert at WSP – Whozeewhatsit/Whatchamacallit! We love this Milk Chocolate Cake with Caramel Mousse and Nougat Frosting! Grab one today! Butternut Squash Soup at the Met today! Hmmm…Delish!
waffletruck
Midtown East: forget work today & wafel with us on 52nd btw 3rd & Lex. Talk yourself out of an NYPD Parking ticket, yay!, for 1 free dinges.
Comme Ci, Comme Ça – Soupe du jour: Split Pea Soup ($3); Sweet Tuesday: Chocolate Fudge Cake! ($3)
UncleGussys
Greek cuisine at it's finest. Special of the day, KOKINISTO – braised beef pot roast, in a red wine sauce,served with spaghetti and salad, mom really hooked it up
StreetSweets
LOCATION ALERT! SS will b on 50st & btw 6 & 7 Av due 2 the Farmers Market @ Columbia University We're looking forwd 2 seeing our old friends