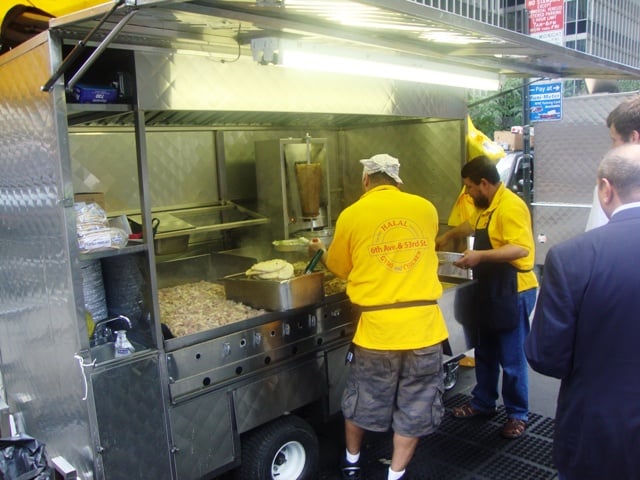 I went to see Peter Gabriel at Radio City last night (great show!) and walked by the world-famous 53rd & 6th cart on the SW corner of 53rd St & 6th Ave.  They are only open from 7:30pm-4am, and when I walked by at 7:15, there was a line of over 20 people waiting before it even opened.
Even though the original cart is only open at night, they were so successful that they expanded and took over some of the daytime carts in the area.  You can tell the affiliated carts by the yellow shirts that say 6th Ave & 53rd St and the yellow plastic bags.  You can get the same food at one of the other 53rd & 6th carts during the day without such a long wait.  There are carts on the SW corner of 53rd St & 7th Ave and the one I went to on the NW corner of 52nd St & 6th Ave.  For the old-timers out there, this was the former Shendy's cart before it was taken over by the 53rd & 6th guys.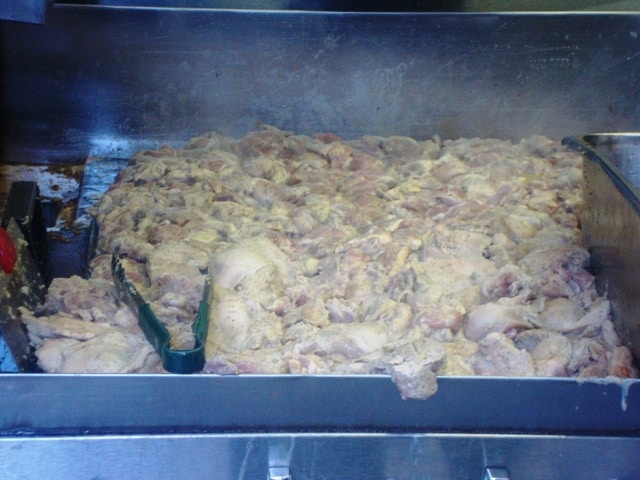 Today's Lunch was the classic chicken over rice with white sauce and hot sauce for $6.  Some people get the combo of chicken and gyro meat, but I'm not a big fan of gyro meat.  As I walked up to the cart, there was a lot of fresh chicken cooking on the grill, and a line of only around 5 people.  By the time I left less than 5 minutes later, the line was around 12 people.
The chicken was a combination of white meat and dark meat, and it was very tasty.  You could see a marinade on the meat as it grilled, and there was black pepper on the chicken too.  The chicken wasn't dry, but another 15-30 minutes and it would have been.  Brisk turnover is one of the keys to good street food.  You don't want street food that was sitting around for hours before eating it.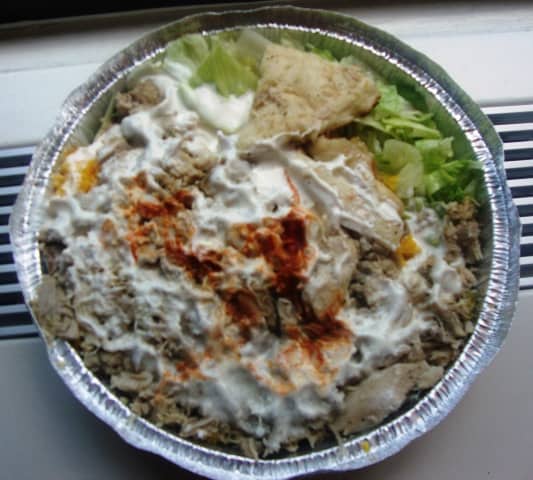 The white sauce was pretty good.  The recipe is a secret, but it's definitely mayo based with some yogurt likely added.  They say it takes a lot of time to prepare the sauce each day, and it is better than most of the other halal carts.
They only have yellow rice, but it was decent.  Not the best rice ever, but it went well with the chicken and sauces.  The hot sauce was very hot, which explains why they didn't put a lot on.  Too much of their hot sauce might kill you, if not literally, at least your afternoon.
The platter also included a few triangles of pita bread and a small salad, which were fine.
Today's Lunch gets an 8 out of 10.  It's one of the better halal chicken over rice carts out there, but probably not the best, and it doesn't reach the level of a Biryani Cart or Kwik Meal.