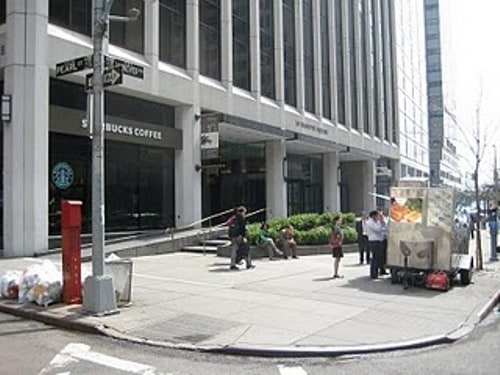 We felt for Pork Banh Mi. To get an idea of the diversity of street food available in New York, you need look no further than the Banh Mi Cart. Sure, you can easily get 5 different types of burgers on the street during Burger Week, but we are not aware of any other banh mi carts in Manhattan.
It's not like the Banh Mi Cart is new. They have been around for 6 years, but with us being in an office in midtown, the corner of Hanover Square & Pearl St in FiDi is tough to get to during the week.
While they are fairly popular in New York, some people may not know what a banh mi is. To give you a quick primer, banh mi is a Vietnamese sandwich served on a baguette with meat, pate, a bunch of veggies, and some sauces.
Now that tried them, you might want to make the trek yourself, especially if you work or live in the Financial District. They have 10 different types of baguette sandwiches such as grilled chicken, steak, shrimp and even roasted eel.  Prices are generally $6, with a couple at $7 and one for $8.
We went for the Special Baguette (#1), which is the classic Pork Banh Mi with vegetables for $6.
Taking the baguette out of the bag, it was quite long, probably about 12 inches. The baguette was stuffed with thin slices of roasted pork, a slice of lunch meat (in lieu of pate), carrots, cucumbers, cilantro, mayonnaise, sliced jalapenos and sriracha sauce.
This was quite a spicy sandwich, with lots of crunch from the fresh veggies.  The carrots, cucumbers and cilantro were all very fresh.
The baguette had a nice amount of crunch on the outside, but was soft inside.  The bread did give off a lot of crumbs, so make sure you're not at the computer when eating this sandwich, or you may need a new keyboard.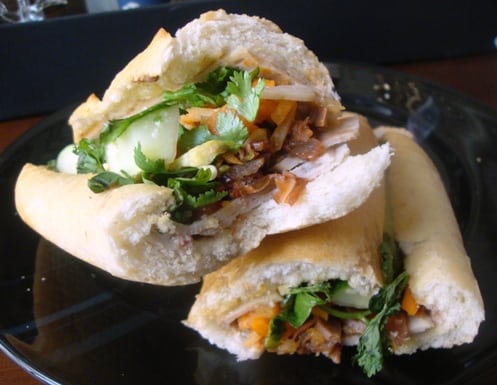 There were a few different sauces squirted onto the sandwich, giving the Pork Banh Mi some sweetness, a vinegary edge, a little saltines from the lunch meat, and some heat from the sriracha (and jalapnenos, natch).
You can also get this sandwich mild, in which case they leave out the jalapenos and sriracha sauce.
This Pork Banh Mi was tasty, fresh and filling.  I'm certainly looking forward to trying some of their other banh mi's, probably shrimp, steak and chicken curry.
The Banh Mi Cart does not tweet or have a website, but they are on the corner of Hanover Square & Pearl St every weekday from 11am-4pm.  They get busy during the lunch rush, so you might want to call in your order to 646-996-8990, then pick it up at the appointed time. It doesn't get any easier than that.