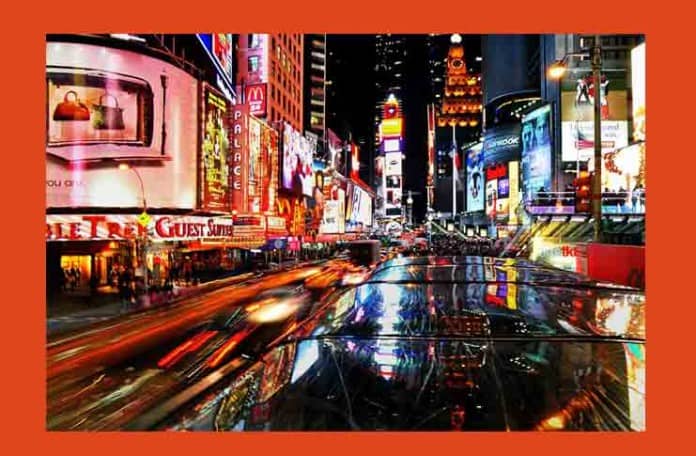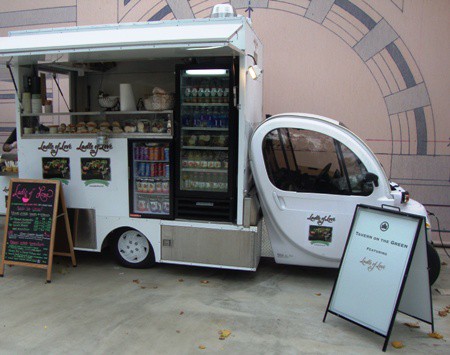 After enjoying Turkish tacos from the new Pera truck at the old Tavern on the Green space, I wanted to try Ladle of Love.  I was familiar with the other two trucks at the old Tavern space –  Rickshaw Dumplings and Van Leeuwen Artisan Ice Cream, but was completely unfamiliar with Ladle of Love.
Today's Lunch is beef bourguignon ($8 for 12 oz) from Ladle of Love at the old Tavern on the Green spot in Central Park, just inside West 67th St.
Since I was not familiar with Ladle of Love, I struck up a conversation with Michael Cutney, the head chef.  He told me they were affiliated with 2 places in Mt. Kisco: a farm-to-kitchen store called Ladle of Love and a farm-to-table restaurant called Cafe of Love.  They were big proponents of fresh, local food, and much of their food was locally sourced.
I wasn't sure what to order, and one of the other guys said his favorite dish is their beef bourguignon, so I ordered the medium size (12 oz) to take back to the office.
Michael wanted me try a couple of other things before I left, so he gave me tastes of two sandwiches – a BLT chicken sandwich on ciabatta with chipotle aioli mayo and serrano ham and manchego cheese with watercress, also on ciabatta bread.
I tried the chicken BLT sandwich first, and it was delicious.  The initial thing I noticed was a great smoky taste, which Michael said was from the chipotle aioli mayo, but I think the bacon probably had something to do with it as well.  The sandwich wasn't spicy, but had a real nice smoky chicken flavor.  I would seriously consider getting this sandwich next time.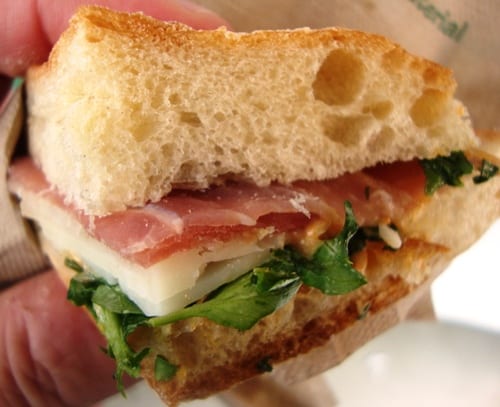 The serrano ham in the next sandwich was similar to proscuitto, but less tough and stringy.  The word that comes to mind for this ham is "silky".  It was smooth, a tiny bit oily (in a good way), and a little salty.  This was a very tasty sandwich too.  You really can't go wrong with either of these sandwiches – it's more a matter of what you're in the mood for at the time.  They were both really good.
As I was walking through the park back to my office near Columbus Circle, I was really looking forward to the beef bourguignon.  This lunch was perfect for the colder weather that started today, and when I opened the lid, the smell alone was worth a few bucks.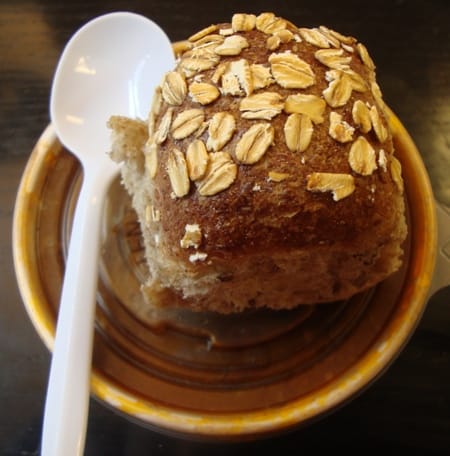 The container was filled with large chunks of tender beef, tons of mushrooms, and some carrots and onions.  This wasn't one of those dishes where you had to search for the meat.  It was loaded!  In fact, you might want to ask for a knife to cut the beef, because some of the chunks were much larger than bite-size (and I have a big mouth).  There was more fat than I like on some of the meat, but I'm picky about fat, and stews can be like that at times.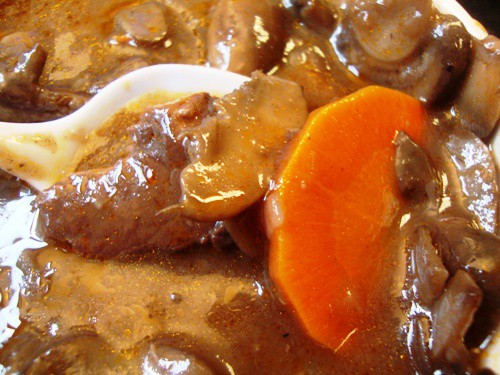 The sauce was really good too.  You could taste the red wine, beef broth and herbs like bay leaf and thyme, and it was nice and thick too.  After I ate most of the beef, I took the whole-grain bread and dipped it into the sauce.  What a great way to finish the meal!  The bread and sauce bites were just as good as the beef and mushroom bites.
Today's Lunch, the beef bourguignon from Ladle of Love was an 8.5 out of 10.  This beef bourguignon will certainly help get you through the cold weather that started today and will only get worse.
I also enjoyed the two sandwiches that Michael gave me samples of.  They were very tasty, and I plan on going back for more.
It's nice to be able to get such good food in Central Park.  It used to be only hot dogs and pretzels were available unless you wanted to lay out big bucks for Tavern on the Green or the Boathouse.  Glad to see Ladle of Love and Pera are changing this for the better.