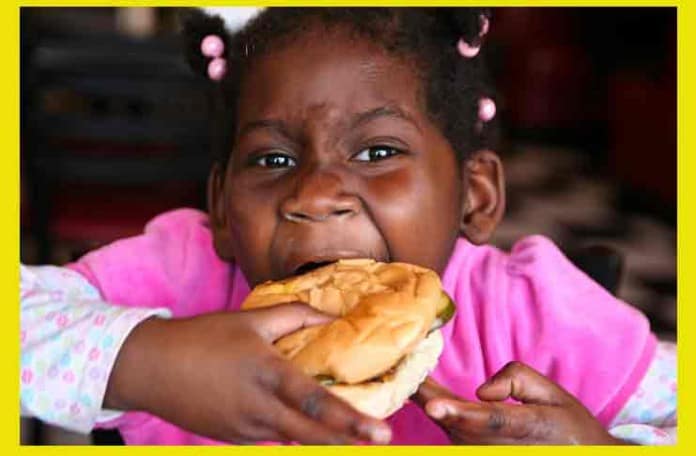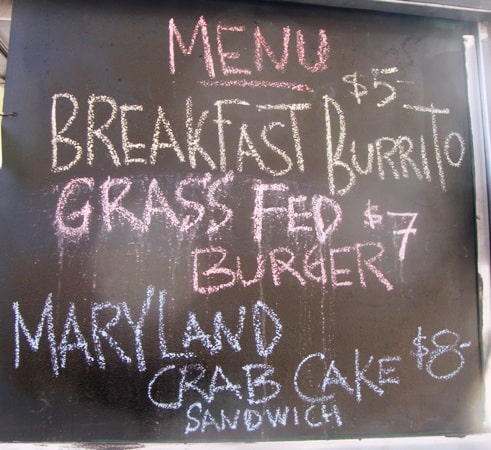 Over the weekend, we stopped by Eat Here Now Now Eat Here to pick up brunch.  They are on 16th St under the High Line from Tues-Fri, and are on Hudson St & 12th St on Sat & Sun.  The cart is open from 8am-4pm, which makes sense because one of their most popular dishes is a breakfast burrito, although they serve it all day.
I've previously enjoyed their breakfast burrito, but my wife never had one until Saturday.  She liked it as much as I did.  It has eggs, cheese, onions, poblano peppers, a mild hot sauce and some other stuff (like the tortilla you can see in the picture below).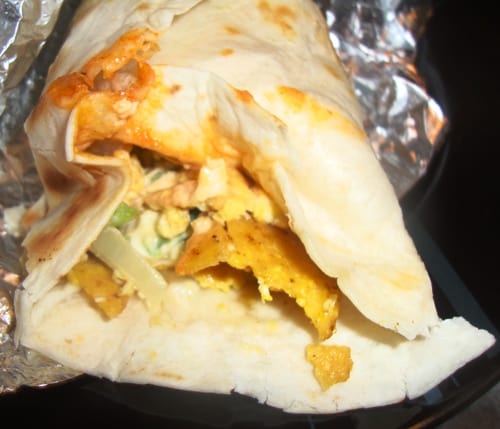 The 2011 Vendy Award Finalist for Rookie of the Year has simplified their menu for a couple of reasons.  Stan told me that now he can work the cart by himself, and the menu revisions are designed to cut down the waiting times.
In addition to the breakfast burrito, Stan now has a grass fed burger, crab cakes and quesadillas.  He removed tacos from the menu, but you can get crab cakes in either a sandwich or in a quesadilla.
I ordered a crab cake sandwich and a burger to split with a friend, so we got to try two of the new items, and later on I heard from a NYSF reader who had the crab quesadilla.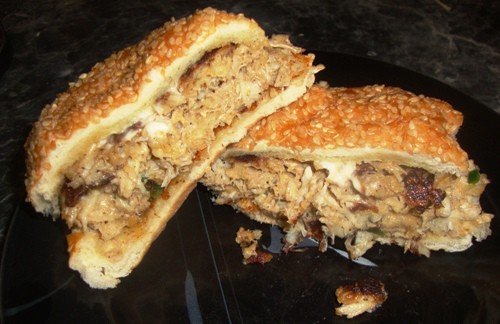 The crab cake sandwich was deceptive.  Each bite was mainly tasty, flaky crab meat, but the seasoning had a distinct kick to it.  There was Old Bay seasoning and plenty of black pepper, and I think there was some horseradish in there too.
The seasoning didn't overpower the sandwich, but added just the right amount of seasoning and heat.  You have to be careful with crab meat because it can't take too much seasoning or spiciness without being overwhelmed.  This was a delicious crab cake sandwich, and a good deal at $8.
Coincidentally, I also got an email from Sally, who is visiting from London and went to Eat Here Now Now Eat Here on Saturday too.  She asked me for street food recommendations during her visit, and told me she had "his AMAZING crab quesadilla" (her quote and caps).  I'll have to try that one on my next trip to Eat Here Now Now Eat Here.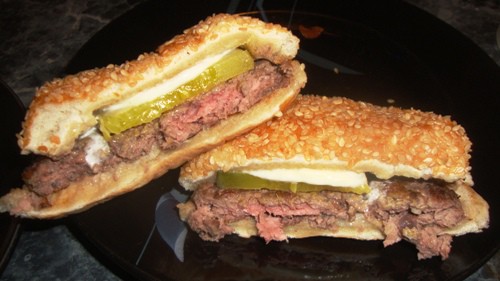 The burger was pretty tasty too.  It was cooked to medium and had a nice, beefy flavor.  The patty was on the thin side, but tasted good served with some mayo and pickles.
If there was a weak spot, it was the buns.  I like sesame seed buns, but these were very soft and got "mushed up" fairly easily.  With a better bun, the crab cake sandwich would have been excellent instead of very good, and the burger would have been very good instead of just good.
I had some time to talk with Stan, the owner of Eat Here Now Now Eat Here, and he told me that you'll be seeing more of him around town very soon.
Stan wants to be more mobiler, and he showed me a photo of the type of food truck he is looking to buy. It's not going to be the smallest food truck in the world, but it will look like nothing else on the NYC streets.  You'll just have to wait to see this one.  Stan hopes to have his food truck ready to go some time in January.
Until then, you'll have to stop by 16th St under the High Line or the West Village on weekends for delicious crab cakes, crab quesadillas, breakfast burritos and burgers.