There's a relatively new Thai street food cart on West 50th St between 6th & 7th Ave called Tuk Tuk Boy.  A tuk tuk is a 3 wheeled vehicle popular in Southeast Asia.
Tuk Tuk Boy has a Thai menu including pad thai, chicken basil, Thai bbq and red & green curries. You can see their full menu with prices here.  For the 1st time at a Thai place, I usually get pad thai, which was $8 for the shrimp version (chicken was $7).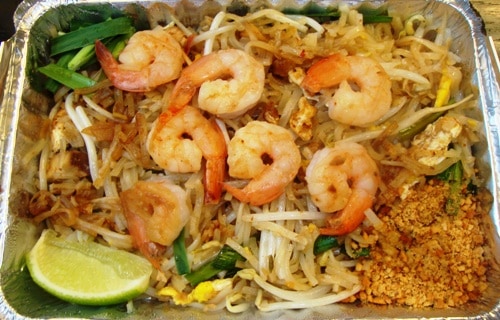 There were 7 small-to-medium sized shrimp on top of a bed of flat noodles, bean sprouts, crushed peanuts, scallions, eggs and tofu.  All the usual pad thai ingredients were present and accounted for.
I started with the shrimp, which were juicy and cooked the right amount, but they were curiously bland.  The shrimp would have benefitted from some marinade, even a simple mirin or soy sauce marinade.  Squeezing fresh lime juice on helped, but these still tasted like plain shrimp you get with shrimp cocktail.
Once I finished the shrimp, it was actually better.  The noodles were pretty soft, but they had a sweet, vinegary sauce like you expect on pad thai.  There was a little bit of heat, and it got spicier as the meal progressed.
I can't say this is the best pad thai I've ever had, but it was good enough that I want to go back to Tuk Tuk Boy to try some other dishes.  The Thai chicken bbq, chicken basil and green curry all look worth trying.
If you have been to Tuk Tuk Boy, please let us know what you had, and how you liked it.  We'll let you know our thoughts as we try more dishes.