As a small operation, we don't have the luxury of reporters scouring the city for us, finding the best street food vendors. What we do have (besides our love of great street food) is people who want to tell us about their favorite places to eat on the street.
This NYSF Guest Post comes from Antony LaBozzetta, who loves the K Brothers Halal Food cart near his office in Chelsea.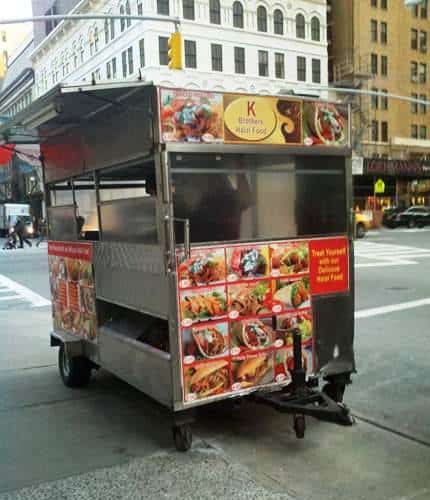 Take it away Antony:
"New York City…one of the culinary Meccas of the world.  If you want it, you can find it, Italian, Korean, Sushi, Tapas but there are some foods that I believe are true New York.  Pastrami from Katz's…hot dogs from Nathan's…bagels and lox from Russ and Daughters…and my most guilty vice – street meat.  I've had them from 10th Avenue to Madison and from Harlem to Chelsea, absolutely love it.  Now having eaten it a lot, when one stands out to me, then you know it's something.
Which brings me to K Brothers Halal Food on 17th Street and 7th Avenue.  On my first visit as I approached the crowd was about ten people at noon…two police officers and eight construction workers…always a good sign.  Today was no different, though my order was.  I'm usually a "gyro junkie" but today feeling exceptionally hungry I went for it…"COMBO RICE, EXTRA WHITE EXTRA HOT!!"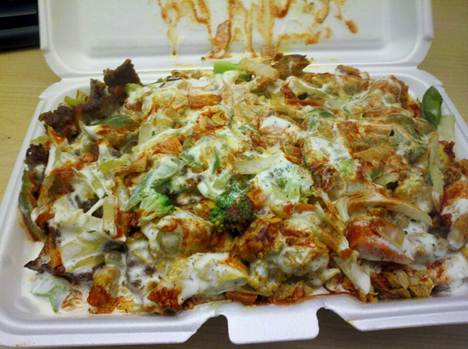 A mere five minutes later I was approaching street meat Nirvana as you can see above.  First impressions is when they feed you, they feed you.  Beneath that colorful mound were a good four scoops of buttery and fluffy yellow rice. There's also basmati rice if you prefer.
Their lamb is well spiced and has a wonderful texture, both from the fact that they crisp it on the flat top and the fact that the meat is not over processed like some other carts, it tastes like meat.
The chicken is dark meat but with almost no gristle or other "bits" and wonderfully moist, liberally seasoned with paprika, cumin, turmeric, cayenne, and a hint of lemon.   However the true surprise was vegetables!
Yup, healthy stuff…a stir fry of onions, green bell peppers, carrots, and broccoli.  The onions were soft but not terribly so and wonderfully sweet.  The veggies were nicely crisp and still colorful.
The white sauce was mayo based but nicely seasoned with a bit of dill(?) in it.  The hot sauce was not "blow your head off" but combined with the spices on the chicken by the time I got to the end there was some definite heat going on.  However if you must clear out your sinuses they also offer a pureed jalapeno sauce.  Being a purist I haven't gone for that yet…but being a Heatseeker…I will at some point.
The meal does come with salad too if you wish but I figured (1) the heat usually wilts the salad and (2) I'm getting veggies anyway so why bother?  However I will say the produce looked fresh from some of the other meals I saw.
All this for $5?  How can you go wrong?  They also offer some overstuffed gyros for $4, falafel over rice for $5, and the usual assortment of cheesesteaks, sausage and peppers, and the like.
Also you can get any of their entrees (sausage, lamb, chicken, falafel) over a salad as well.  Recently they even started offering fish over rice for $6.  All in all, they may not be the best, but they're certainly one of the best."
Thanks Antony. Next time we're in the area of 17th St & 7th Ave, we'll have to give K Brothers Halal Food a try.
Anyone else try K Brothers Halal Food? Let us know in the comments.
Do you have a favorite street food vendor you would like to share with everyone? Email perry@newyorkstreetfood.com with details.