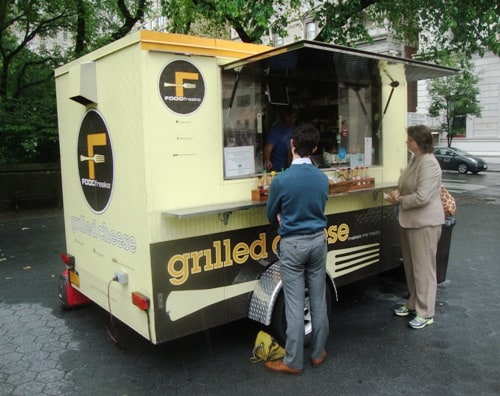 Today is the last day to get Food Freaks Grilled Cheese at their temporary Central Park location.  Don't worry if you can't make it.  They will be back at their regular spot by Ft. Greene Park in Brooklyn tomorrow.
This time we splurged and got the Short Rib Grilled Cheese for $8.75.  Short rib isn't cheap, and this sandwich was the most expensive one on the menu, but the other sandwiches are less, ranging from $5.75-$7.50.  You can see the menu here.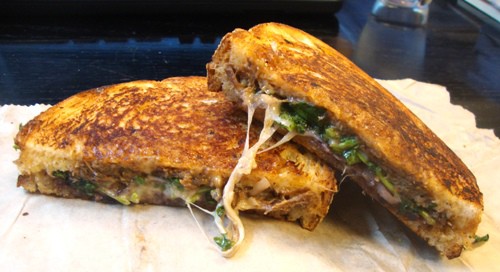 Inside the sandwich were shredded, tender short rib, pickled red onions, watercress and gruyere cheese.  The short rib was delicious, and gruyere was a strong enough cheese to stand up to the taste of the beef.  The watercress and pickled red onions added two other diverse flavors, with a touch of bitterness from the greens and some vinegariness from the pickled red onions.
The Food Freaks sandwich was served on sourdough bread that grilled up nicely.  This was because they add mayo to the butter before grilling.  They told me it allows for an increase in temperature before the butter burns, so the sandwich can cook a little longer.  Tasted like it worked just fine.
This is the last day the Food Freaks are at this spot (60th St & 5th Ave), and they should be there until 4:30 or so.  The rest of the time, Food Freaks Grilled Cheese will be by their usual spot outside Ft. Greene Park in Brooklyn.  To be sure, check their twitter here or our Mobile Munchies twitter feed.  You'll be glad you did!