Ever tasted Halal Grilled Chicken? Has it really been 3 years since we've been to the Chef G. Halal & Healthy cart on East 55th St. It used to be called 100% Halal & Healthy Food, along with a sister cart on 54th & Park, but it looks like Chef G. has struck out on his own since we last went there.
Back then, the cart was on the NW corner of 55th & Park, but with the construction of a new office tower, Chef G. has been forced to move across Park Ave to the east side of the street.
No worries! It seems like most of his regulars still know where to find him, with a regular stream of customers coming and going from the cart.
We were originally turned on to this cart by Eric B., a NYSF reader who thought the food here was better than your average halal cart…and he was right!
We're too small a website to cover every corner of the city, so please tell us if you know of any street vendors who excel.
We wanted to try the salmon over rice, but Chef G. told us it takes 10-15 minutes to cook, and we had a scheduled conference call to make. That's how we ended up with halal grilled chicken and roasted veggies over rice for $7.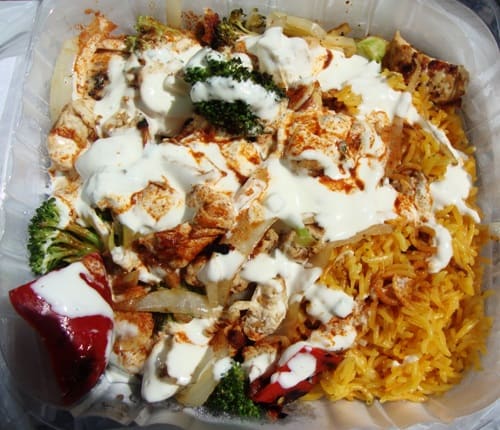 There are several things here we like, that make it stand out from other halal carts in the city. For one, each ingredient is kept in separate containers, keeping things fresh.
They also have 3 kinds of rice to choose from: white, yellow and brown.
If you want to keep it low-cal, you can have salad instead of rice, which we saw the woman ahead of us do.
She got halal grilled chicken over salad, and there was a small salad bar where you can choose toppings, such as red onions, feta cheese, olives and more.
He also has a balsamic dressing, which goes much better with salad than white and hot sauce.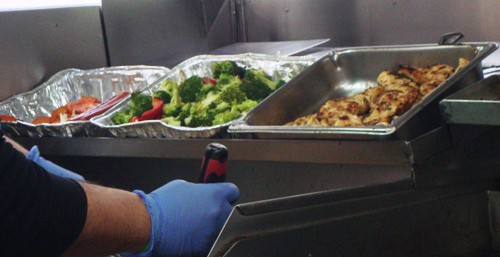 Our lunch of grilled chicken and roasted veggies over yellow rice was one of the best halal cart lunches we've had in a while.
The chicken was tasty, but the real revelation was the roasted red pepper. It was sweet and juicy, and left a burst of flavor in our mouth when we bit into it. The roasting really brought out the sweetness of the red bell pepper.
In addition to the red pepper, there were onions, carrots, and a bunch of broccoli. The veggies weren't overcooked and limp, they still had some nice crunch.
The white sauce was good, but not amazing. Chef G. also has 2 hot sauces, one fairly hot and one hotter. We enjoyed the extra hot sauce, although it wasn't brutally hot.
If you want lunch from a top-notch halal cart, Chef G's 100% Halal & Healthy on 55th & Park is a good choice.
Hey, you can even get a healthy lunch there if you want…but you don't have to.