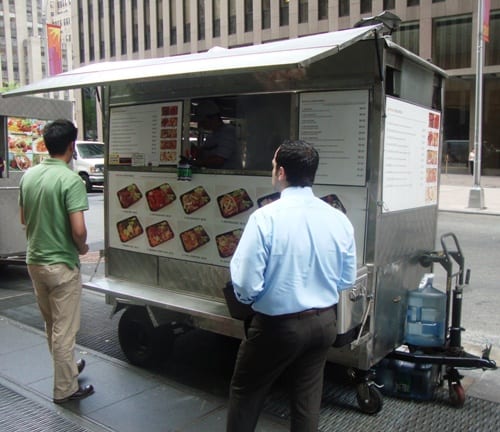 You constantly hear about the new breed of Korean food trucks, who mix Korean and Mexican influences. What you don't hear about as often are the old-school Korean street food carts, such as Bapcha.
Bapcha are located on 49th St between 6th & 7th Ave, and they specialize in marinated, charcoal-grilled meats, although they also have tofu for vegetarians.
In order to try two items, I ordered the galbi combo for $9.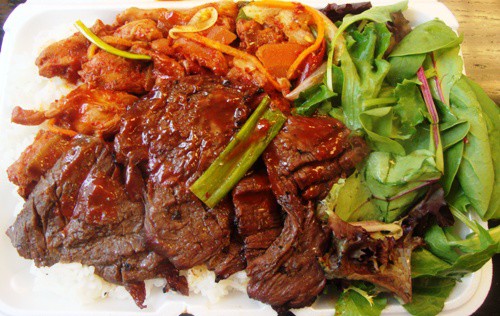 The galbi combo has both short ribs and chicken, and John knows I like hot sauce too. Bapcha's hot sauce is good, but it's not brutally hot like at some other places.
The short rib is probably my favorite dish at Bapcha. The meat is scored and marinated overnight, giving it a sweetness, and there is definitely a charcoal-grilled flavor too. The short rib is a higher quality cut of beef than the ribeye used for bulgogi.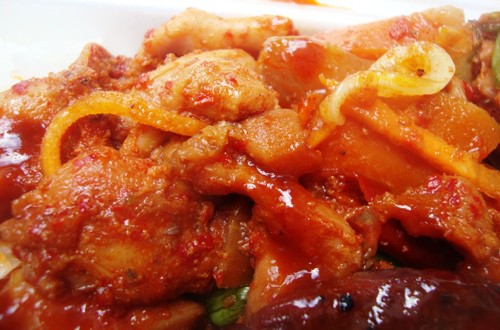 Not counting sauce, the galbi chicken is a bit spicier than the short rib, but once again, not ridiculously so. The chunks of marinated chicken are tasty, and have onions and carrots mixed in, but I still prefer the short rib.
Another thing I really like at Bapcha is besides white rice, you also get a noodle salad that's buried under the meat. It's a cool salad made with clear cellophane noodles and veggies like broccoli, carrots, onions, peppers and cauliflower.
There's also a small side salad with good quality lettuce and a light dressing.
Bapcha doesn't have a website or twitter account, but they have good, solid Korean food on West 49th St. In addition to grilled meats, they also have dumplings, noodle soup and other noodle dishes, but our choice here is the grilled meat.