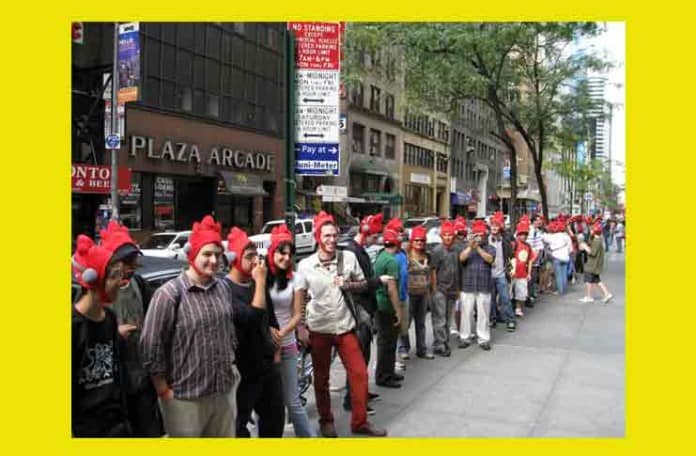 Yesterday Wooly's Ice was nominated for a 2011 Vendy Award in the Best Dessert category, and I hadn't had a chance to try them yet.  That was resolved last night at Fashion Night Out, when I stopped by TopShop in Soho, where they were giving away free samples in the store.
Danny and Kenneth also showed me how they put together their Vendy Award-nominated dessert of Hawaiian and Taiwanese-inspired shaved ice.
First you start with a big block of flavored ice. Tonight they had 2 flavors – strawberry and original, which is flavored with condensed milk.  The block of ice then goes through an ice shaver little by little, which turns it into extremely fine shavings of ice.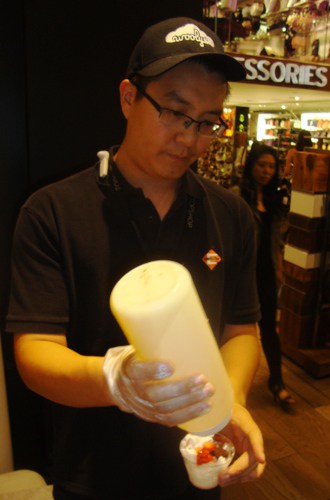 After the ice is shaved into a cup, Danny put a few pieces of crumbled brownie and strawberries on the ice, then squirted on some leche sauce.  Their leche sauce is condensed milk, evaporated milk and just a touch of sea salt.
Click through for a beautiful shot of the finished product, which was delicious.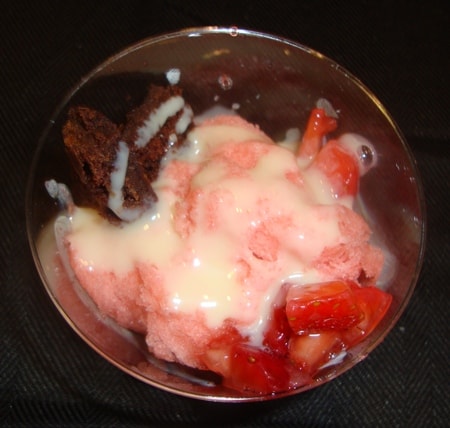 The final product has the consistency of freshly fallen snow when you're up in the mountains.  Put on a little brownie, some strawberries, and creamy, sweet leche sauce on top, and you have a light, refreshing and very tasty dessert.
Wooly's Ice cart is located at 79 Elizabeth St in Chinatown.  Their regular menu has 2 sizes – The Wooly ($4) which includes 1 syrup and 2 toppings and The Mammoth ($6), which includes 1 syrup and 3 toppings.
Wooly's regular menu also includes green tea flavor ice. Sauces include leche (above), chocolate, mango and strawberry.  Toppings are brownie bites, strawberry, mango, blueberry, kiwi and mochi.
Congratulations to Danny, Kenneth and everyone else at Wooly's Ice on your Vendy nomination.  We look forward to trying some other flavors at the Vendy Awards on Sept 24th.
Wooly's is on facebook here, you can follow them on twitter here (although we have already added them to our Mobile Munchies twitter feed), and we will add them to our directory over the weekend.