(credit: NYSF)
If you've spent any time below 14th St during the summer, you've probably seen the ubiquitous Van Leeuwen Artisan Ice Cream (VLAIC) trucks around. There are 6 (!) trucks that also hit Williamsburg, Soho, Flatiron and other areas, but we live in the Village, and always see their yellow trucks either parked or driving around.
On a recent visit to the High Line to meet a friend on a very hot and humid day (like today), I got there a little early. With a few minutes to kill, I went up to the Van Leeuwen Artisan truck and ordered a cone. It was a brutally hot day, and ordering an ice cream cone was more an act of self-preservation than a treat, but I do love ice cream, in all its shapes and forms.
Van Leeuwen Artisan is known for their rich and interesting flavors such as gianduja (chocolate & hazelnut), cinnamon, ginger and palm sugar. They also have vanilla, chocolate, strawberry and pistachio.
Even though I love dark, rich chocolate, my eye was immediately drawn to Earl Grey Tea, which I enjoy a hot cup of from time to time. It cost $4.90 for a small cone or cup and $6.90 for a large. That's a bit on the high side, but VLAIC uses only the finest ingredients in their ice cream, and that's not just hyperbole.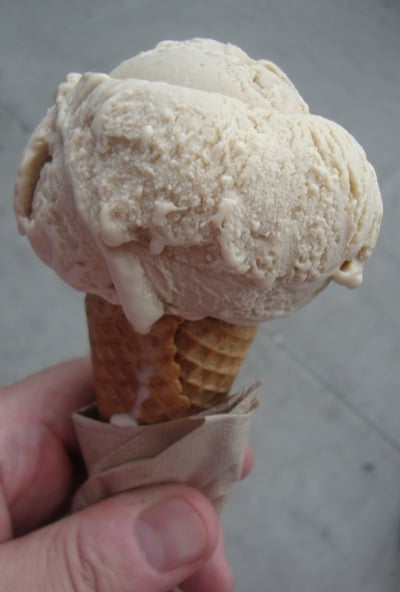 Van Leeuwen Artisan Ice Cream is one of the granddaddies of the NY street food scene, meaning they were launched in Spring 2008 by Ben Van Leeuwen,  Laura O'Neill and Pete Van Leeuwen. VLAIC were nominated for a Vendy Award before there was even a Best Dessert category.
For the Earl Grey Tea flavor, they steep giant teabags filled with organic Earl Grey Tea leaves in a special custard. The result is a strong tea flavor in a sweet and creamy ice cream base. There was no tannin or bitterness, as you can sometimes get when drinking hot Earl Grey tea, if it sits around too long.
The sugar cone was a bit stale, but considering it was 95 degrees with 110% humidity, that wasn't too much of a surprise.
Van Leeuwen Artisan is also as environmentally friendly as they can be. All their disposable goods are made from 100% renewable resources, and one percent of their profits is pledged to Wildlife Direct to help preserve one of the worlds most endangered species, the Mountain Gorilla.
You can find the VLAIC trucks on Twitter here or on our Mobile Munchies Twitter feed. They aren't the most reliable tweeters, but the truck locations are also on their website here.
If you don't feel like looking for one of their trucks, VLAIC also has 2 stores in Brooklyn and one in the East Village.