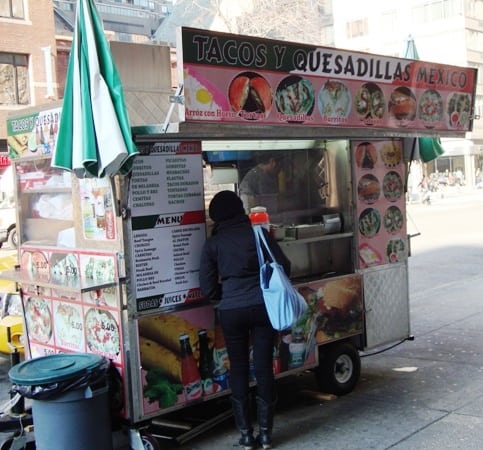 Tacos y Quesadillas Mexico is an old-school Mexican street cart with a fairly wide menu.  In addition to tacos and quesadillas, they have burritos, huaraches, chalupas, cemitas and tortas (the last 2 being Mexican sandwiches).
They also have a nice variety of meats.  You expect chicken, pork, beef & chorizo, but they also have Mexican specialties like tongue, pig's ear, goat, and salted beef.
They have enough of a following that a 2nd cart was opened last fall.  The original is on 9th Ave by 59th St, and the 2nd one is on 53rd St between 7th Ave & Broadway.  They both have the same menus.
I had dinner plans and didn't want a huge meal for lunch, so I ordered a chorizo quesadilla for $5.50.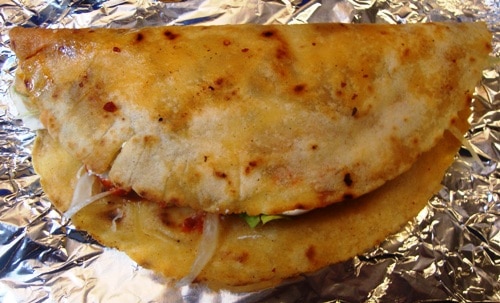 Most people expect quesadillas to be two soft tortillas filled with cheese and meat, topped with guacamole and/or pico de gallo.  This was not even close.
The tortilla was grilled so it was crispy.  Crumbled chorizo and a mild Mexican cheese similar to string cheese was put on the tortilla. After it cooked for a bit, the tortilla was taken off the grill, and shredded lettuce, onions, grated cheese and hot sauce were added.  It was then folded in half and put back on the grill for a few seconds.
Taking the quesadilla out of the foil, there was quite a bit of oil from the chorizo.  Some types of sausages can get pretty oily, and chorizo is one of the worst offenders.  I'm sure a chicken tinga or pork filling would not have been as oily, but I really like chorizo.
Taking a bite, the spiciness was immediately apparent.  I asked for it medium spicy, but most people would probably call this very spicy.  Glad I didn't ask for it very spicy.
The chorizo itself was not too spicy, and the cheese and lettuce cooled things down a little, but not much.  The salsa picante (hot sauce) was strong.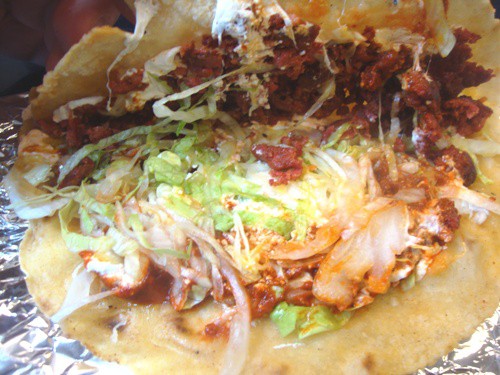 Don't expect a gooey, cheesy quesadilla here.  The taste was mostly chorizo, sauce, lettuce and a crispy tortilla.  The cheese was almost an afterthought, and didn't add much to the dish.
The chorizo quesadilla at Tacos y Quesadillas Mexico was good, but based on past experiences, I would recommend a burrito or torta over a quesadilla.
As for the filling, that depends on how adventurous you are.  Chicken, pork and beef are available, but so is goat, pig's ear and tongue.
I'm not sure about tasting something that can taste you back, but there are lots of people who like it, including a girl from out of town I was talking to while waiting for lunch.  She really liked their tongue tacos, and was getting two for lunch.
Maybe next time.