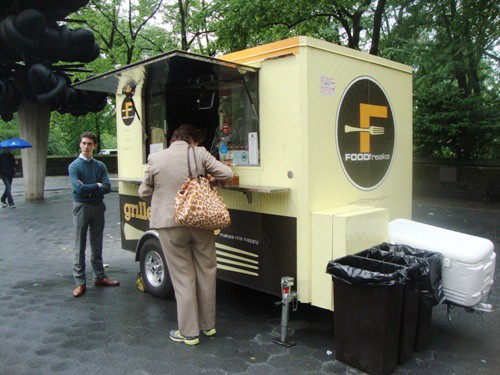 We received a nice surprise on Sunday when Food Freaks Grilled Cheese tweeted they were going to be in Central Park on Monday & Tuesday for lunch.  Food Freaks were one of our favorite new vendors at the Taste of the Parks event last June, but we haven't gotten out to their regular spot by Ft. Greene Park in Brooklyn.
Even though it was raining cats & dogs, we caught a lull in the storm and headed over to 5th Ave & 60th St, right by the entrance to Central Park.  The Food Freaks Grilled Cheese founders, Stephen Cusato and John Coppola, were grilling up a storm inside their cart.
After asking for their recommendation, we agreed and ordered the Arthur Avenue sandwich for $7.25.  For those of you not familiar with Arthur Avenue, it's a section of the Bronx known as the "real Little Italy".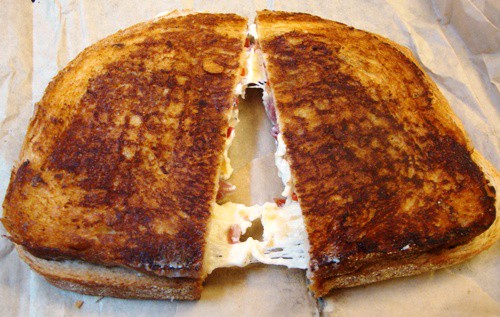 It was raining too hard by the time I got lunch to eat outside, so I brought the sandwich back to my office.  It cooled down a little, but was still somewhat gooey.
Inside the Food Freaks Grilled Cheese sandwich was fresh mozzarella (which you can tell by the taste and texture), creamy ricotta, pieces of meaty sopressata and a wonderful red pepper jam.  The jam added some sweetness to the cheese and meat, but it wasn't too sweet by any means.
The sandwich was served on a country white bread that grilled up nicely.  This may sound strange, but the Food Freaks told me they add some mayo to the butter before grilling.  They say it allows for an increase in temperature before the butter burns, so the sandwich can cook a little longer.  Based on the results, they obviously know what they're talking about.

As I was waiting for the sandwich, John gave me an order of deep-fried brussells sprouts.  I don't usually like brussels sprouts, but I tried their version at the Taste of the Parks event last year, and was blown away.  It was actually the first time I ever enjoyed brussells sprouts, and I was eager for more.
I also wanted to find out how they are made so my wife, who loves brussells sprouts and is a great cook, can try it at home.  John told me they deep-fry the sprouts, then simply add agave syrup, salt and pepper.  Sounds easy enough, but we'll have to see how the execution at home goes.
The Food Freaks Grilled Cheese will be at this spot (60th St & 5th Ave) only for this Monday & Tuesday and next Monday & Tuesday.  They may be able to try a spot near Columbus Circle, but that wasn't confirmed as of yesterday.
Food Freaks Grilled Cheese will be by Ft. Greene Park in Brooklyn the rest of the time.  To be sure, check their twitter here, their website here, or our Mobile Munchies twitter feed.  You'll be glad you did!