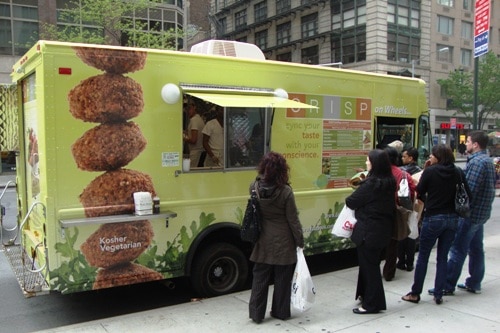 Back in NYC!  I'm swamped with work, but happy to be here.
Today is the 1st day for the new Urban Lobster Shack On Wheels, and there are plenty of other choices out there too.  It's the last Columbia Food Pod of the semester with Go Burger, Desi Food Truck, Mexico Blvd and Feed Your Hole.
Tonight is Choice Streets at the Intrepid, which should be a fun event.
As always, check the Mobile Munchies twitter feed before heading out, in case anyone had to move at the last minute
Urban Lobster Shack ‏ Our Urban Lobster Shack On Wheels is Rolling into Midtown today…join us for our Maiden Voyage. We will be announcing today's location at 11:30am
ColumbiaFoodPodExcited for the final @columbiafoodpod of the year today feat @goburger @desifoodtruck and @mexicoblvd
The Taco Truck ‏ Mention "Taco Tuesday" 11:30AM–4PM and with any order of tacos get 1 extra free taco! Free taco excludes… http://fb.me/1RXdlnfqi