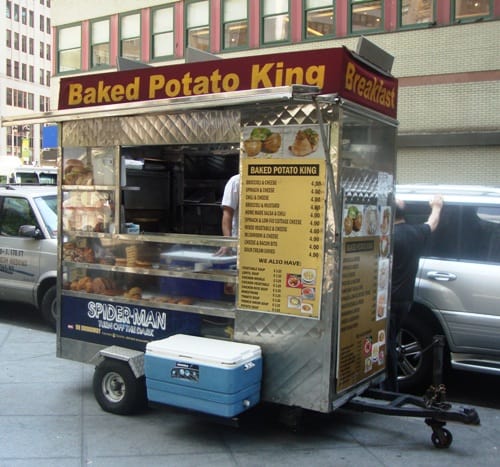 Ever had a Broccoli and Cheese Baked Potato? Well, if you're looking for something a little different in a street food lunch, there's always the Baked Potato King on the NW corner of 39th St & Broadway.  Guess I don't get to this area too often, because when I spoke with the guy in the cart, he said they have been there for 18 years (!), and a person behind me ordering lunch said it was true.
I'm not a big fan of stuffed baked potatoes, but I can't always have my favorites for lunch. Sometimes you have to take one for the team.
The menu had about 10 different varieties of stuffed baked potatoes such as Broccoli and Cheese Baked Potato, spinach & cheese, sour cream & chives, bacon bits & cheese, and even a spinach & low-fat cottage cheese for dieters.
I went for the classic Broccoli and Cheese Baked Potato. All stuffed baked potatoes cost $4.50.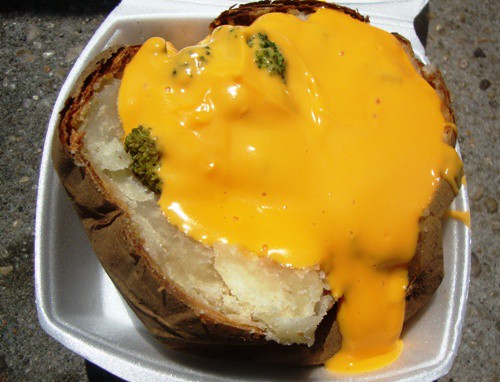 The man in the cart opened a metal drawer, took out a big, fat baked potato and cut it in half. Lots of steam came out, a good sign.
He put some broccoli on the potato, ladled on cheese, closed the container and handed it to me.
Opening the container, everything was still steaming hot, and I had to be careful taking a bite of potato and cheese because of the temperature.
The potato was baked just right, with some firmness, but soft enough to eat with a plastic fork.
On the other hand, the cheese had that institutional feel to it. I would imagine the can it came in was labeled "cheese product". It tasted ok, but the consistency and taste was along the lines of melted cheese whiz. Some people like that, especially on cheesesteaks, but personally, I prefer real cheese.
As for the broccoli, there was still a little life left in the stems, but the florets were pretty limp.
After eating most of the fillings, I picked up the potato skin halves and ate them too.  The baked potato skins were nice and crunchy, and there was still some cheese sauce to dip it in.
Broccoli, cheese and baked potato are a good combination together, but the quality of the toppings here left a bit to be desired.
The Baked Potato King is safe for a cheap, filling lunch, but don't expect it to one of the best baked potatoes you've ever had. I do like spending $4.50 for lunch though.
The person behind me got a chili, cheese & broccoli stuffed potato, and they let me take a picture. Now I'm curious about the chili, because it smelled pretty good.