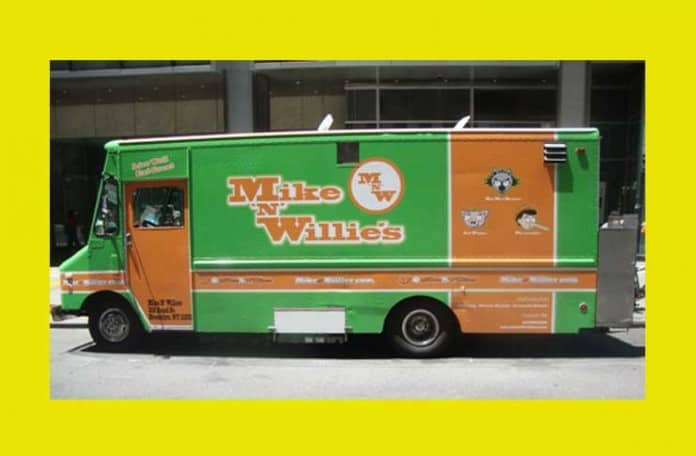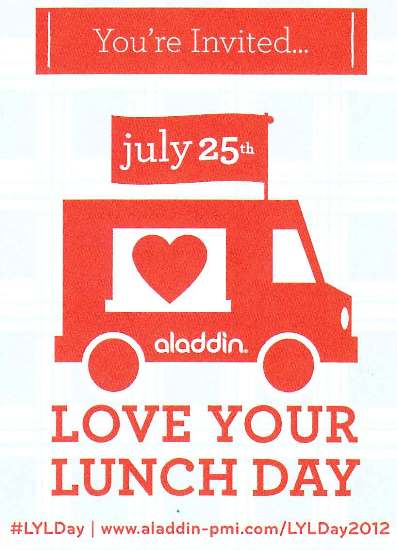 Twenty food trucks across the nation are partnering with Aladdin to celebrate a new holiday: National Love Your Lunch Day on July 25th. Now that's a holiday we can get behind.
Aladdin, creators of iconic character lunchboxes, wants to rekindle your love affair with lunch. If you're reading New York Street Food, chances are your the love affair with lunch is still going strong, but there's still a good message here.
Aladdin is partnering with 20 food trucks in cities nationwide to give lunchers with a simple message: grab a pal, eat great food, and Love Your Lunch.  To help foster the lunch love, each participating truck is giving away Aladdin reusable lunch containers and coupons.
Click through to find out which food trucks in which cities are participating.
"Lunch used to be fun, and we say it still should be," said Jenn Ottele, Aladdin Marketing Manager at Pacific Market International (PMI). "Aladdin believes that the importance of taking some time out of the workday to enjoy a meal can't be overstated. That's why we're asking people, if just for one day, to leave their desks, step away from the spreadsheets, grab some great food and really enjoy their lunch."
On July 25th, food trucks in select cities across the country will celebrate Love Your Lunch Day during mid-day hours for those who want in on the lunch-love.  Look for food trucks in these places:
Austin – Chi'Lantro – at The Domain on Esperanza Crossing
Bentonville, Arkansas – The Greenhouse Grille – at the NW corner of Bentonville's Downtown Square
Boston – The Dining Car – at 602 Commonwealth Avenue
Chicago – The Slide Ride – at 600 W Chicago
Dallas – Nammi Food truck– at 2121 Flora Street
Denver – Quiero Arepas – at 1560 Broadway, Suite 2250
Houston – Ladybird Food Truck – at 1201 Main Street, corner of Dallas
Irvine, CA – The Lime Truck – at 18678 Teller
Los Angeles – The Green Truck – at Warner Brothers, 3300 Warner Boulevard, Burbank
Minneapolis – Hola Arepa – at South 6th Street & Marquette
Minneapolis/St. Paul – Fork in the Road – at Kellogg Boulevard between St. Peter & Wabasha
Nashville – The Grilled Cheeserie – at 500 Great Circle Road
New York Downtown – The Bistro Truck – at Old Slip & Wall Streets
New York Flatiron – Schnitzel & Things – at 27th & Park
Portland, OR – Brunch Box – at SW 5th and Stark
San Diego – The Green Truck – at 8690 Balboa Avenue
Seattle – Rainy Day Gourmet – at 414 Boren Avenue in South Lake Union, between Republican & Harrison
Washington, DC – Cirque Cuisine – at Franklin Park, 13th K Street NW
Aladdin's new Insulated To-Go Food Containers, a reusable version of the classic deli container, will be headlining at Love Your Lunch Day as a free gift with the purchase of food.