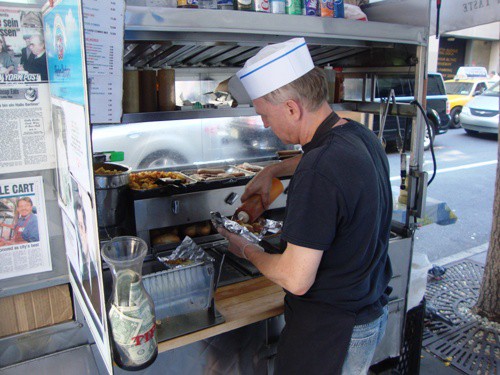 Ever been to Hallo Berlin NYC? We have always loved hot dogs and sausage of all types. If it comes in a casing, we want to try it, except for maybe blood sausage. On the other hand, maybe if they put it on a stick and fry it…
But we digress. While you can get hot dogs on just about every corner of NYC, there is only one street vendor serving authentic German wurst, Hallo Berlin NYC. The original proprietor, Rolf Babiel, died in 2009, but his brother Wolfgang, reopened the cart a little over a year ago. Rolf, with assistance from Wolfgang, won the very first Vendy Award back in 2005.
On this visit, we decided to get a bauernwurst, which costs $5.50, and opted for a side order of German fries for $2.50. It might seem like a lot to pay $5.50 for what some people consider a glorified hot dog, but this is so much more.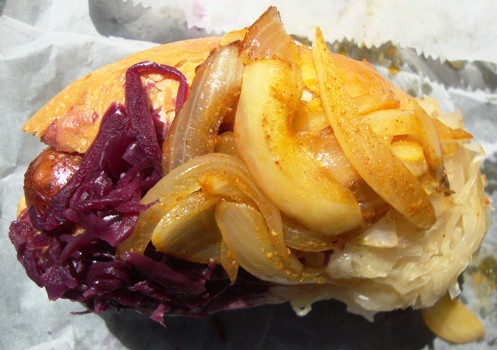 After the wurst is nicely grilled, it's put on a crusty roll and topped with spicy mustard, sauerkraut, grilled onions and red cabbage. Of course, you can decline any of these if you want, but when Wolfgang asks  "with everything?" that's not really a question to us. It's more of a statement.
It does take some nimble eating not to make a mess. Not only is the wurst thick, but everything is piled so high, there's no way to get your mouth around the entire thing.
The great thing about getting your wurst "with everything" is the variety of flavors. As you work your way down the roll, you get bites of the wurst with sauerkraut, grilled onions and red cabbage. It's almost like getting 3 lunches in one.
As for the wurst, there's something like 9 different types, and the bauernwurst is one of our favorites. It's made with both beef and pork, and has a little bit of spiciness. Germans don't generally like spicy food, so it's not too much.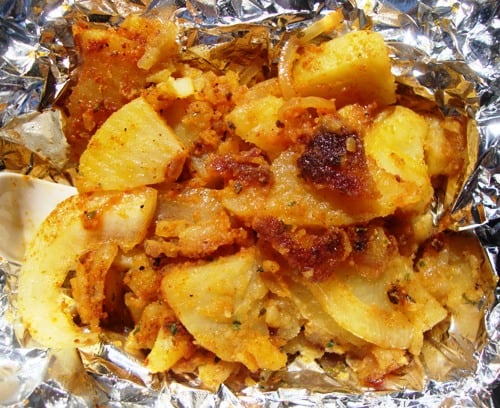 The German fries were not all that different from the home fries you get with brunch at most coffee shops and diners. It was flavored with a little paprika, there was a healthy dose of grilled onions, and the crispy bits were the best part.
The Hallo Berlin NYC cart is on 54th St a few steps west of 5th Ave. Wolfgang is there every weekday for lunch from about 11-3. We suggest going before or after the lunch rush if you can, because the line can get long.
Wolfgang doesn't rush the goods out the door, he takes his time with each order. That was frustrating the first time we went there, but after eating lunch, we understood the extra time and effort he puts into each order.