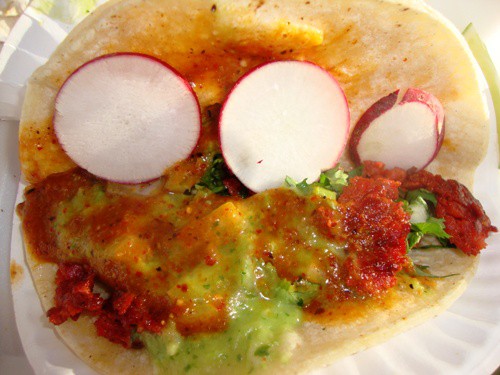 We were running an errand Sat night by 7th Ave & 11th St in the Village. Looking across 7th Ave, we spotted what looked like the Jalapeño NYC truck, which we thought was out of business.
Crossing the street to get a better look, we walked around by the serving window and saw signs for the Tacos Morelos truck. While the side of the truck still had the old Jalapeño NYC logo, the side facing the sidewalk was covered with Tacos Morelos menus and signs.
The guy in the truck told us that Tacos Morelos now has 3 trucks.
This one serves weekday lunches by Wall and Pearl St and hits the West Village Fri & Sat nights. A 2nd truck is by Ave A & 2nd St.
The original truck, which we had a NYSF First Look at last December, parks in Williamsburg by Bedford Ave & N.7th St.
We were still full from dinner and didn't try this truck on Sat night, but now that they're nearby, we're sure it will only be a matter of time.