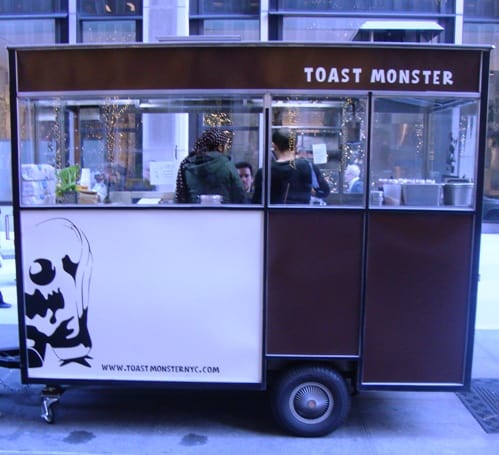 Can you say NO to a Steak sandwich? Well, after returning from London, we headed over to our regular stomping grounds (feeding grounds?) by Rockefeller Center to get some lunch. On 50th St just west of 6th Ave was a new food cart called Toast Monster.
The concept is sandwiches on toast, and they have both savory and sweet. The savory sandwiches come on either white or wheat bread. The sweet sandwiches are served on French toast!
It was lunch time, so we got Steak sandwich with potatoes, which cost $7. What's steak & potatoes without onions & gravy? For $1 more, you get onions, gravy & cheese.
The full Toast Monster menu is here.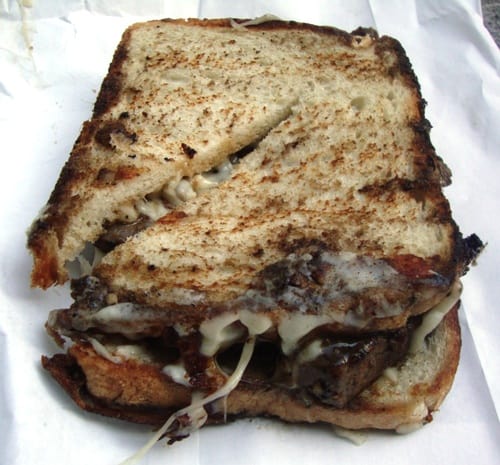 After ordering our food, we talked for a few minutes with Gary and Caroline, the proprietors. They have been around for a couple of months, starting out in Tribeca, and trying other spots in the East Village and Brooklyn, all the while working out the kinks in their service. They recently started coming to midtown, on 50th St west of 6th Ave.
Caroline works the front of the house, and Gary seems to really enjoy working those spatulas. He piles up the sandwiches, grills them over flame, then tosses the sandwiches to flip them over, and finally compresses the sandwich. We caught one of the sandwiches in mid-air through the window. Our order is the still uncompressed sandwich on the grill.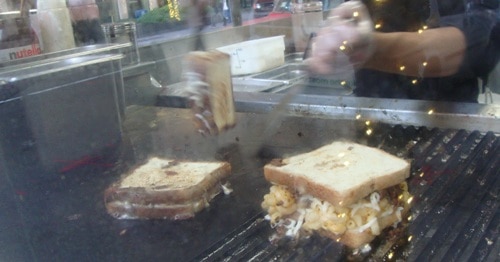 We figured the sandwich would be a bit messy once cheese and gravy were added, and that was the case. But the messiness did not take away from the enjoyment of this sandwich.
The first thing we want to say is how tender the meat was. Steak sandwiches can be tricky to eat if the meat is tough. It ends up getting pulled out of the bread while we're trying to bite it.
At Toast Monster, they do a few things to keep this from happening. The meat is cut into bite-sized pieces, the steak is tender, and it is not overcooked. We could even see a little bit of pink in some of the meat.
They don't skimp on the cheese either. This cheese was stretching and running so much, it could have been preparing for a marathon.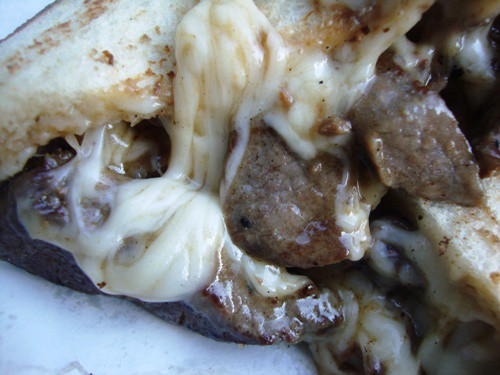 The gravy, onions and cheese really added to this sandwich. Just steak and potatoes would have been a much more boring lunch. Just make sure you ask for extra napkins. The one skimpy napkin we got with the sandwich didn't do the trick.
There are definitely a few more things we want to try at Toast Monster, especially the desserts. How does PB&J or Nutella on French toast sound? We'll let you know.
You can check out the Toast Monster website here, facebook is here, and twitter is here. We have also added Toast Monster to our Mobile Munchies twitter feed.