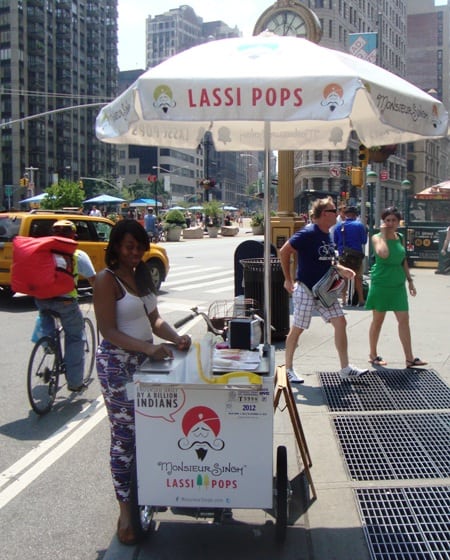 You never know what you'll find if you keep your eyes open in this city.
We got out of the subway at 23rd & 5th to hit Calexico Carne Asada for lunch, and within the first half block, saw a new cart that we had never seen before – Monsieur Singh Lassi Pops, on the block between 23rd & 24th St on the west side of the street.
Calexico always has a bit of a wait, so we placed our order, then went back to check out this new lassi pop cart. The fact that it was close to 90 degrees and humid had nothing to do with it 🙂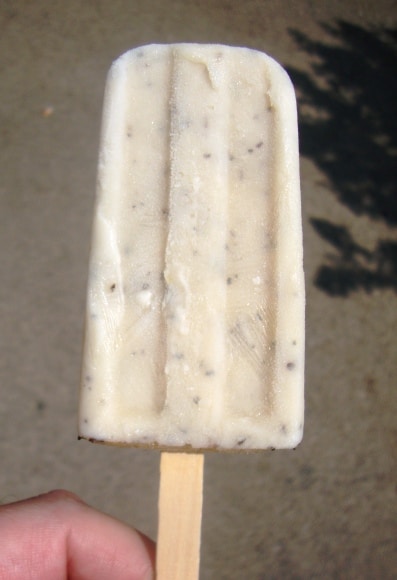 The girl working at the stand told me this was their third week out, and they had three flavors.
The choices were mango, strawberry and honey lemon, but each pop had both fruit and spices mixed in the the lassi yogurt. She also told me next week they were introducing a rose flavor.
I opted for the honey lemon, and each pop cost $2. The honey lemon was infused with small pieces of mint leaves.
If you've had an Indian lassi drink before, this is basically a frozen version. If you haven't, it's a thick yogurt drink that can be either sweet or savory, and is used for refreshment during hot weather. With certain spices, it can also be used as a digestif.
Freezing the lassi makes it even more of a hot weather drink, and it was creamier than Italian ices or gelato. The fruit and honey obviously make this a sweet version, and with the mint mixed in, was very enjoyable.
She told me they move around sometimes, so check their twitter here or our Mobile Munchies twitter feed to be sure.