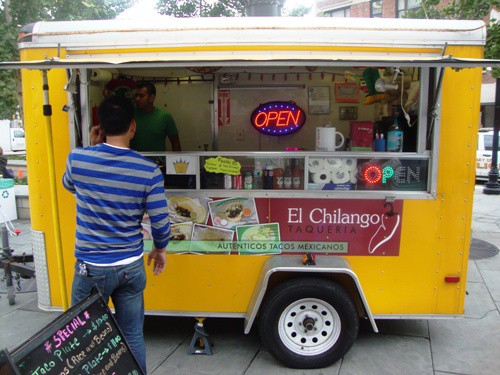 When we went to the All About Downtown Festival in Jersey City, there were more than a dozen of NYC's best food trucks, and there were also a few local Jersey City vendors.
We go to the NYC food trucks all the time, and wanted to try a local vendor that we had never tried before. A good candidate looked to be El Chilango Taqueria, Autenticos Tacos Mexicanos. Considering "El Chilango" is slang for someone from Mexico City, we expected authentic Mexican tacos.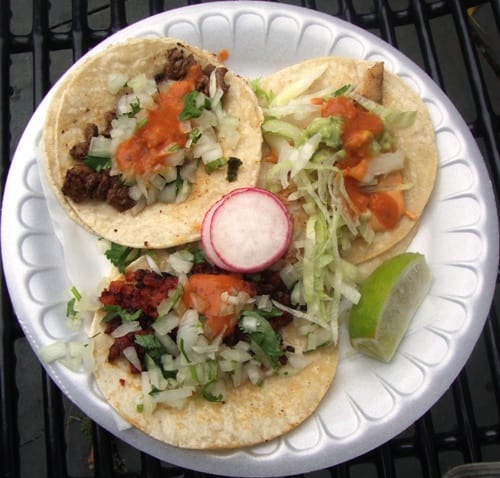 El Chilango Taqueria is a small box of a food cart, similar in size and shape to Kelvin Slush's Ice Cube. They usually park in the Grove Street PATH Plaza, but are occasionally by Columbus & Marin.
The menu is a pretty standard taqueria menu, with tacos, quesadillas, burritos and tortas.
El Chilango had normal fillings like steak, chicken, spicy pork and chorizo. They also have a couple of Mexican specialties such as salted beef and nopales (cactus). The fish taco caught our eye right away. To round things out, we got a steak taco and a chorizo taco.
Most of the tacos are 3 for $6.50, but the fish and steak has small supplements. All together, these three tacos cost $7 and change.
The chef asked if we wanted hot sauce, which is always a "yes". Each taco had lettuce, fresh cilantro and chopped onions, along with radish slices and a wedge of lime. There were small variations in the preparations too.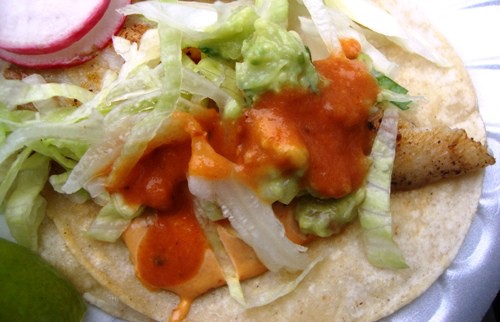 Starting with the fish taco, it was a long, narrow piece of grilled fish. This was a nice surprise, as we expected fried fish. Another surprise was some guacamole that was added to the fish taco.
The sauce on the tacos was creamy and spicy, along the lines of a chipotle mayo. Between the chipotle mayo and the hot sauce, these tacos had some zing.
Some taquerias use lettuce and some don't, but we liked the coolness and crunch it added to these tacos.
The steak taco had small pieces of steak that had been marinated or rubbed with spices. The meat was tender, with a char-grilled taste, with no fat or other tough stuff in it.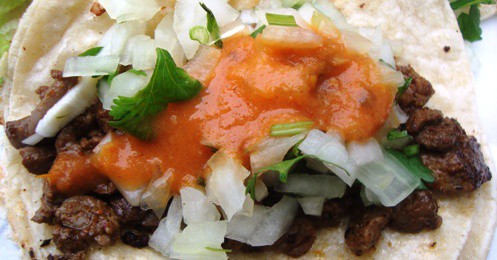 The last taco was chorizo, which was grilled well, and had a bit of charring around the edges, which always adds flavor. The chorizo was not oily, which is often a problem with chorizo. It had a good flavor, but there were a few pieces of fattiness in the chorizo.
We were happy with the tacos from El Chilango Taqueria. The word that comes to mind is "fresh". These were fresh tasting tacos.
As we said, El Chilango parks in the Grove St PATH Plaza and a few other places around Jersey City. To be sure, check their Twitter here or our Mobile Munchies Twitter feed.
El Chilango Taqueria is worth seeking out if you're in Jersey City.