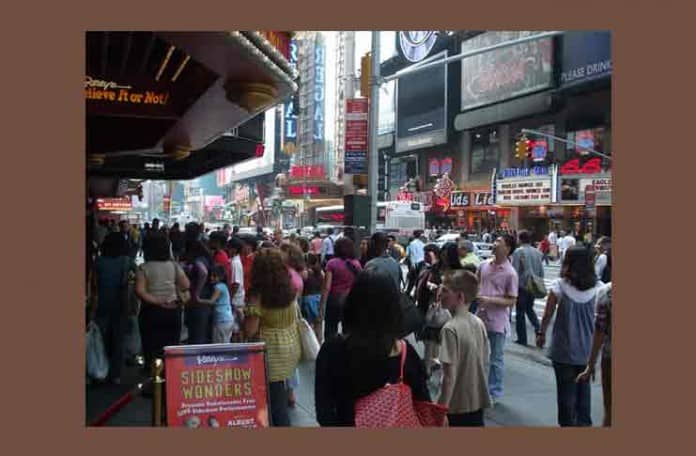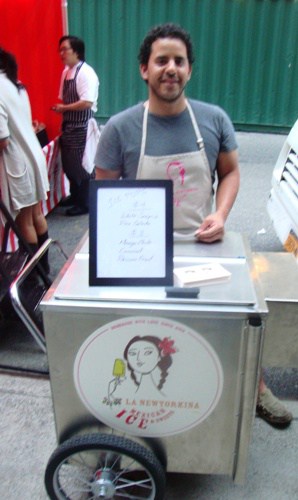 La Newyorkina has been getting a lot of acclaim in the past few months – at the Highline, the Hester St Fair, the New Amsterdam Market, in the new Big Gay Ice Cream Shop – and now as a 2011 Vendy Award Finalist in the Best Dessert category.
We caught up with La Newyorkina last night outside the Ace Hotel for Fashions Night Out, where Eric was manning the cart.  While they only had mini-paletas for FNO, we got to try two different flavors – mango chile and white sangria.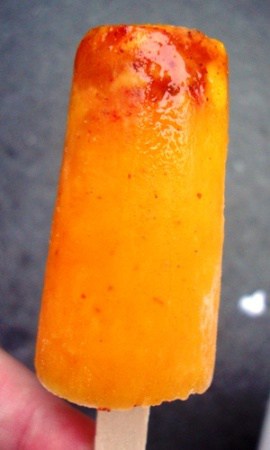 The mango chile was exactly what is sounds like – cool, fruity mango with a nice amount of chile powder.  It was juicy and spicy and extremely tasty!  My tongue tingled for a good 10 minutes after finishing the pop, and I loved it.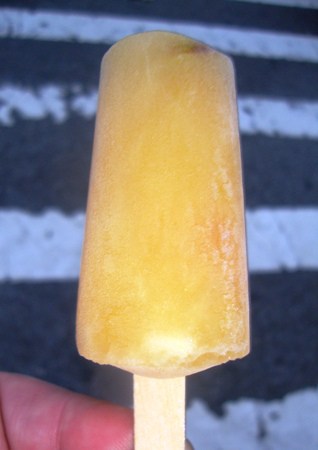 The white sangria paleta isn't as visually appealing as the mango chile, but it was just as good.  There was actual sangria in the pop, giving it some alcoholic content.  There were also tiny pieces of fruit in the mix, which tasted exactly like a frozen version of white sangria – meaning delicious!
We would like to congratulate La Newyorkina on her 2011 Vendy Award nomination, and we look forward to trying even more flavors at the Vendy Awards.  Pineapple jalapeno sounds especially wonderful.  If it's a hot day like last year, they will be tough to beat.
La Newyorkina's website is here, twitter is here (although we have already added them to our Mobile Munchies twitter feed), facebook is here, and we will add them to our directory over the weekend.