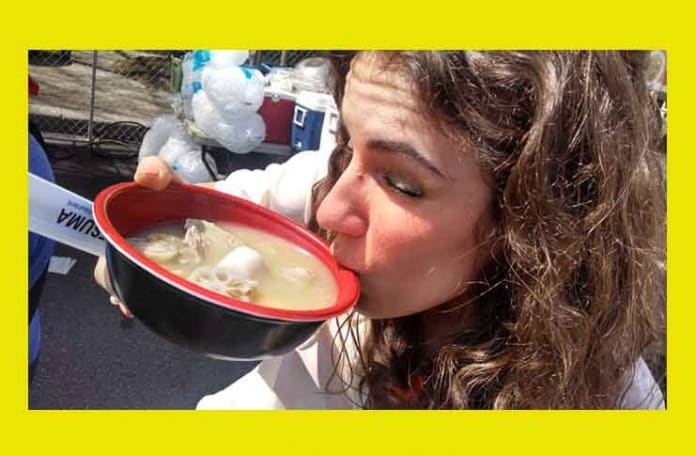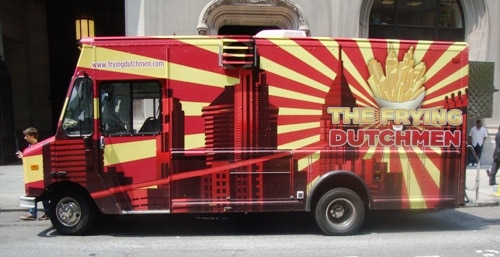 Last night at Fashions Night Out, I stopped by The Frying Dutchmen, who were in Soho giving away free fries and dipping sauces courtesy of Suit Supply USA.
I had only been to The Frying Dutchmen once before, and this was an opportunity to try some new sauces.  They were all new to me, and some were new to the truck as well.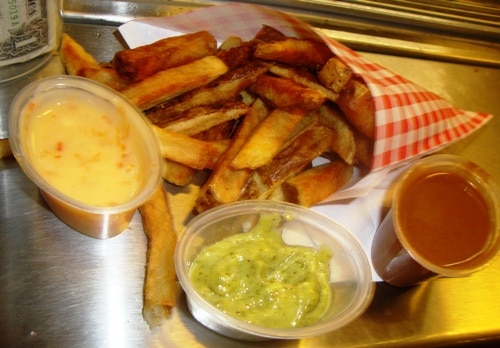 Since it was a free giveaway, they didn't have chicken tenders or sweet potato fries, but you got a lot of thick potato fries in a nice sized cone for free, plus sauces.  Sweet!
I started with the Baja Blast, which was a sweet chili aioli sauce.  It was exactly what a sweet chili sauce would taste like mixed with mayo and turned into an aioli.  This sauce was delicious, and I think it would be even better on their chicken tenders.
The pesto mayo had lots of herbs in a creamy mayo sauce.  On a personal level, I'm not a big pesto fan, but this was good with herbiness adding a nice flavor to regular potato fries.  While I was at the truck, a bunch of other people got the pesto mayo and they all loved it.
Thai peanut sauce is always popular around my house, and this would be too.  It was a smooth sauce with an excellent peanut flavor, and a tiny bit of kick.  Definitely a winner.
While I was eating and talking to Ben, the owner, I mentioned that I like spicy sauces.  He gave me a Hell's Kitchen Spicy Ketchup to try that was also really good.  I didn't get a photo of it, but if you like ketchup and you like spicy sauces, give it a try.  Ketchup always goes well with fries – and spicy ketchup is even better!
When you go to The Frying Dutchmen, there are so many great sauces to choose from, it's tough to know which one(s) to get.  Hopefully this gave you a preview.