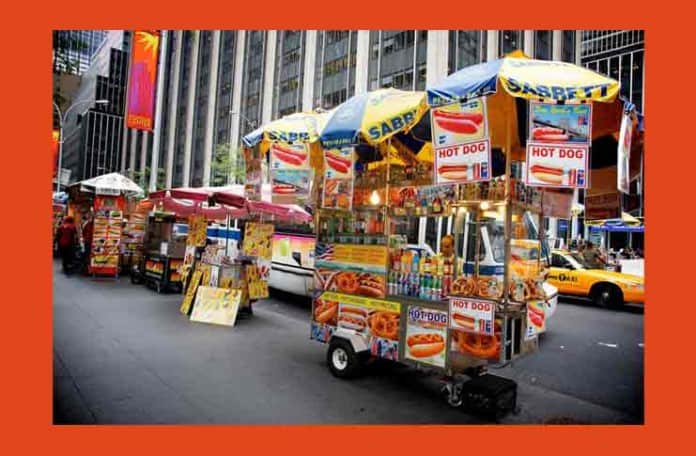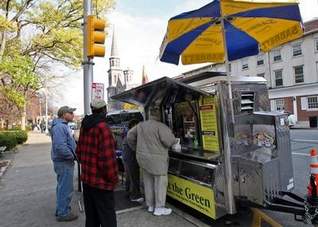 The Daily Record has a nice story about an office worker laid-off from his job who opened a food cart by the courthouses in Morristown, NJ.
Norley Castillo and his father once operated a food cart, and as a child he learned how to cook by watching his mother.  "Me and my father used to do this in New York," he said. "He used to sell hot dogs and shish kabobs."
Norley opened Eatery on the Green in July after being laid off by a Parsippany law firm earlier this year, for who he provided office services.
"Companies are laying off.  Anyone has to find a way to make a living, pay the mortgage, take care of your family. It's tough," Castillo said.  "I said you know what, I'm not going to sit at home. I've got to keep moving.  I opened in July. Just that first day pulled up by here, and I'm selling.  The people like it," he said.
The menu starts with his mother's recipies, but have been changed over time by Castillo's imagination and cooking instincts.  As he envisioned his food cart he wanted a menu that provided value but offered different foods. He devised one that offers some gyros, Caribbean jerk chicken, fajitas in chicken or beef, Spanish style pulled pork or bbq ribs.
It is a selection, he said, influenced by customers who asked for curry chicken, jerk chicken and dishes with rice.
"If you work in one of these offices, you want something quick," he said. "I see jurors. They have the badge that said 'juror.' They say, 'Is the food ready?' And I say, yes."
Castillo understands his marketplace. When he worked at the law firm he'd join coworkers for lunch and have maybe 30 minutes to order and eat. They'd spend between $8 and $12 for a meal, he said. Castillo's meals are around $6.
Castillo said that many days his line of customers snakes along the sidewalk. 'It's pretty good. I'm not trying to make myself rich," he said. Just provide a good lunch at a good value.
"People tell me this is different and ask when I'm going to open a storefront," Castillo said. He just laughs.
"When you serve your eyes are bigger than your stomach," he said. "So this is nice for starting off. [Daily Record]