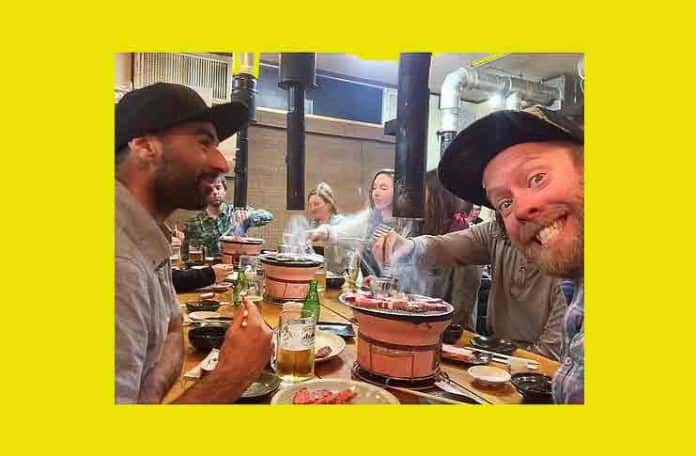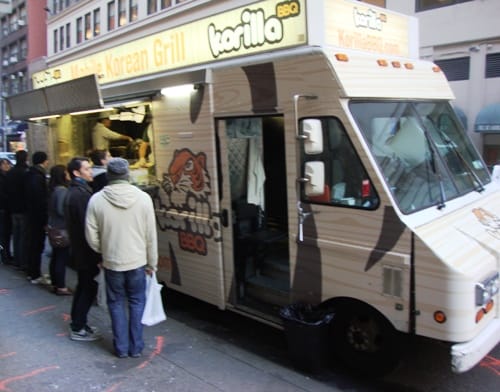 The day has finally arrived – I got a chance to try Korilla BBQ for lunch!  I went to their Launch Party last month, met a few of Korilla's owners who I had been corresponding with, and enjoyed their food.  However, right after the Launch Party, I had to go to London for a couple of weeks, and didn't get a chance to try them on the street until now.
Most of the people in front of me seemed to get burritos, but I wanted to try each of the meats, so Today's Lunch is a taco set ($7) – a Ribeye of the Tiger, a Porkinator and a Wonder Bird.
One of the reasons I haven't been to Korilla since I've been back from London is because work has been really busy, and I didn't have the time to wait 45 minutes on line for lunch.  However, with the introduction of their new menu last week, it seemed like wait times would come down – and I was right.
There was a bit of a line, but it only took 20 minutes between getting on line and leaving with my food, and the last few minutes I was able to watch them make a few different dishes and ask some questions.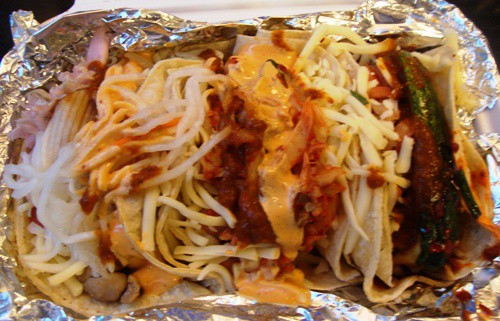 The first thought that comes to mind when you open the container is – wow, these are huge tacos!  It's hard to tell from the picture, but each of the tacos were really stuffed.  And the burritos (pictured above) are huge too.  Whether you get a burrito or taco set, it's still only $7!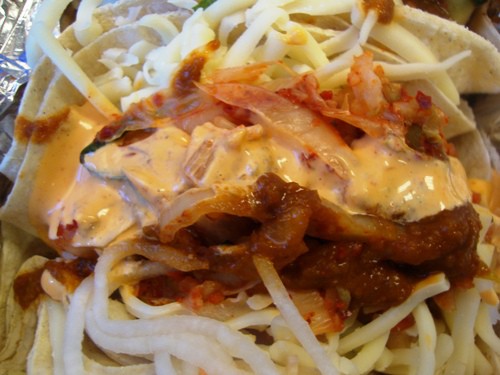 The first taco I tried was the Ribeye of the Tiger, made with all natural black Angus beef.  I could tell it had been marinated in rice wine, and on top of that they put red kimchi, tomato salsa, jack cheese, shredded daikon, bbq sauce and Korilla sauce (like a chili mayo).  Even though they use 2 tortillas, it was still tough to pick up because it was so stuffed.
When I took a bite, I had a serious case of schizophrenia.  It was Korean and Mexican – with bulgogi and kimchi…and tomato salsa and jack cheese.  It was cold on top from the kimchi and daikon…and the meat underneath was warm.  The bulgogi had a slight sweetness from the marinade…but the sauce was spicy.  This was a lot to process in one taco.
The ingredients were all top-notch, but I don't feel like it came together into a coherent whole.  It tasted good, but each bite was a different thing.  That might be a plus to some people, but for me, this taco was all over the place in terms of taste.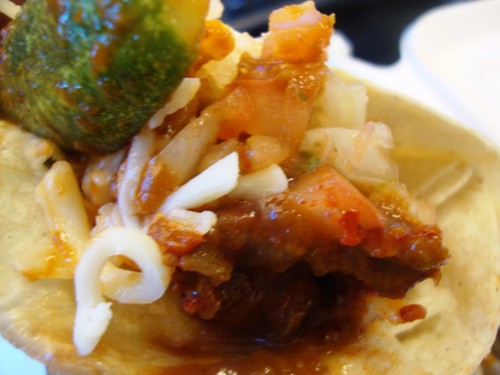 Next up was the Porkinator, which is made with hormone and antibiotic free pork.  IMHO, this taco worked much better.  First off, the pork was very spicy, which I like – but more to the point, it had a tangy bbq sauce, which worked better with the jack cheese and tomato salsa.
They also put cucumber kimchi on top, which is like a half-sour pickle with chili sauce.  Again, the pickle was cold and the meat was hot (and spicy), but I really liked having the cucumber kimchi  on top.  It gave the taco sort of a Korean Chicago hot dog vibe, where they put pickle spears on hot dogs.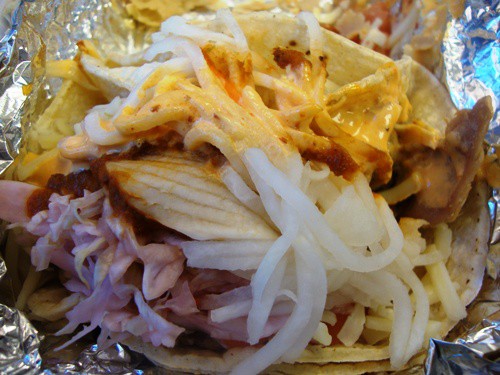 The last taco I had was the Wonder Bird, which is made with hormone and antibiotic free chicken thighs.  This taco had most of the same ingredients, but there wasn't a heavy, spicy sauce on the chicken.  It was more like the bulgogi – marinated in rice wine – than the pork, which was in a bbq-type sauce.  There was also shredded daikon, purple pickled cabbage, jack cheese and tomato salsa, as well as Korilla sauce and hot sauce.
For me, the Wonder Bird fell somewhere between the Porkinator and the Ribeye of the Tiger.  I like the chicken better than the bulgogi, but not as much as the pulled pork.  I'm still on the fence as far as how well jack cheese and tomato salsa go with Korean meats and kimchi.
Today's Lunch averages to an 8 out of 10.  The Porkinator was an 8.5, the Wonder Bird was an 8, the Ribeye of the Tiger was a 7.5.  Keep in mind, these are my opinions.  Please let us know your thoughts in the comments below.
One thing was indisputable – this was a messy lunch!  I went through at least 4 napkins.  Now I know why most of the people in front of me got burritos.  The tacos were so stuffed full of ingredients they were difficult to eat – but on the flip side, this was a huge amount of food for $7 – definitely an excellent value.
In the future, I will certainly be trying Korilla's burritos and chosun bowls, which I would certainly suggest if you don't have a desk or table to sit at.