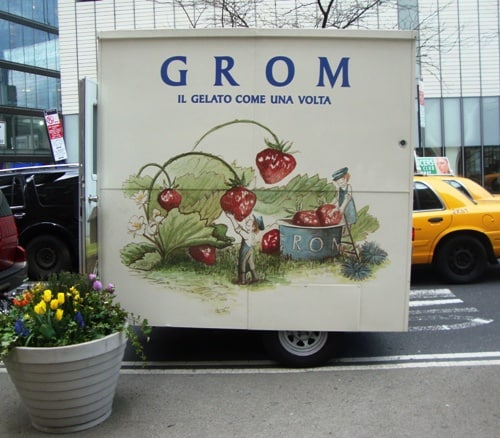 We couldn't miss Grom Gelateria  when they first opened a couple of years ago on the corner of Bleecker and Carmine St. Living in the neighborhood, we walk past that corner at least twice a week.
Then they opened a 2nd NYC shop on Broadway between 58-59 St, right by the 1 train exit we use every weekday. We see them coming and going almost daily.
Today we exited the 1 train at Columbus Circle and saw them loading up a Grom Gelateria  cart with supplies for the day. The guy in the car pulling the cart said it's parked on 72nd St & 5th Ave, right by Central Park.
We haven't had a chance to try the cart, but if it stocks up on supplies from the store, it will be delicious. Just be prepared to pay $6 or $7 for gourmet gelato or sorbet.
The goods from Grom are great, but damn expensive.
The Grom website is here, if you want to read about their philosophy, see their products and flavors, and count how many outlets they have around the world.