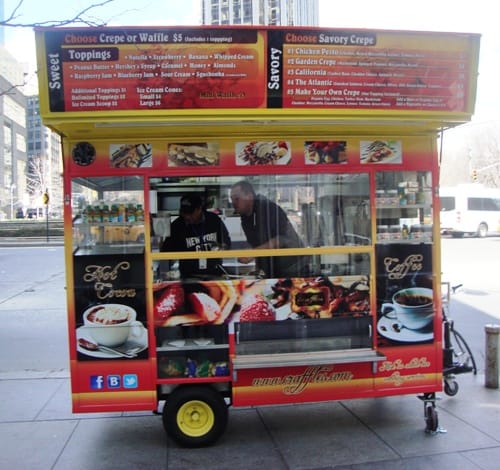 Feel like some good Crepes? Last week we noticed a new cart outside the entrance to the Museum of Art & Design on Columbus Circle. We had to look twice at the name because a) it was written in some fancy font, and b) we couldn't believe someone would name their new cart Craffles.
To us, it sounds like crappy waffles, but to the owner, it's shorthand for Crepes & Waffles. Guess it makes a little more sense than Steak & Crepes.
There were plenty of options for dessert waffles on the menu, but we've been to a few of these second-hand waffle carts, and none of them hold a candle to Wafels & Dinges.
As for crepes, that was worth a try. These were good Crepes, but not amazing, and we were in the market for lunch, although you can also get dessert crepes.
The California Crepe with turkey, ham, cheddar cheese, spinach and pesto looked good for $7.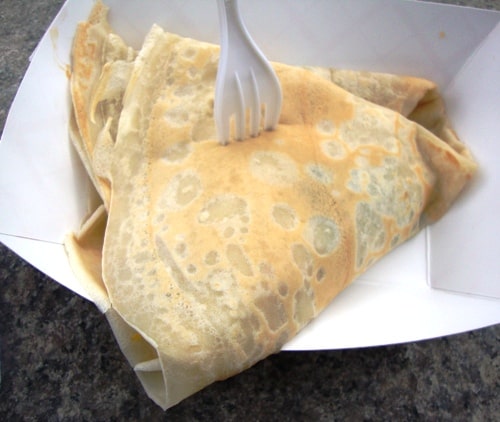 You could tell the cart hasn't been on the street very long, because the guy working was still getting the feel of the cart and learning his way around.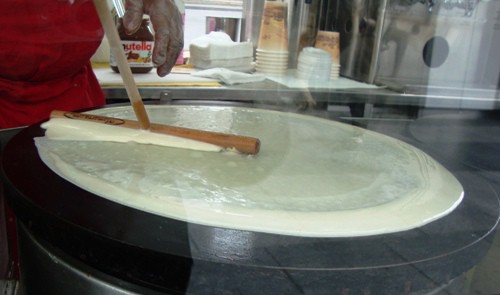 The man poured batter on the crepe machine and then started getting everything else together for our crepe. So far, so good.
He told me they were out of ham (sad face), but the turkey appeared to be thick pieces of smoked turkey. As we said, there was also pesto, shredded cheddar cheese and spinach.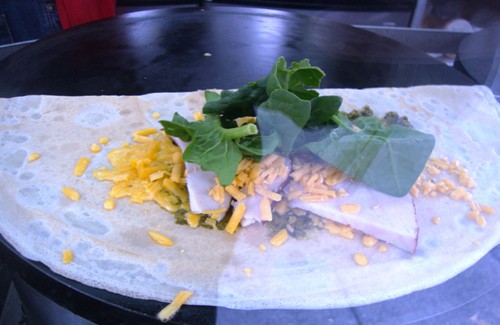 After everything heated up and the cheese started melting, the crepe was folded over and handed to me with a fork.
It was light golden brown on the outside (see photo above) and was easy to pick up and eat.
On our first bite, something was off. We tasted a much stronger herby flavor than there should have been. It took a second to figure out, but quickly realized the guy put basil leaves on our crepe instead of spinach.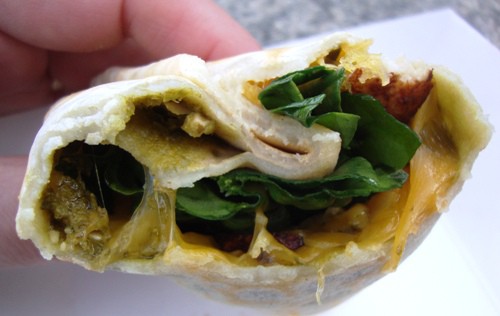 It was still a pretty decent crepe, with plenty of meat and cheese, but it would have been better with spinach. Ham would have really been great too with the smoked turkey.
Overall we were happy with the California Crepe, but it would have been better if made as advertised. We may still go back and try some of the other savory or even sweet crepes, but the waffles hold no interest for us.
If you want to try Craffles, they are still on Columbus Circle but have moved to the front of the Time Warner Center where W&D used to be.
It seems like W&D has moved on to greener pastures. Not only is Craffles now in front of the Time WarnerCenter, but another cart called Savory Foods is serving waffles right next to them. We have no plans to try Savory Foods, although the tourists below are.