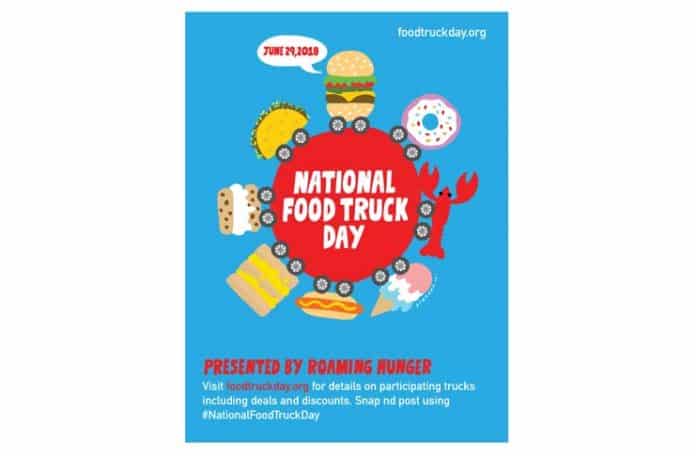 Time flies, doesn't it? Can you imagine it's already the tenth anniversary of the modern food truck movement? We can't…And we also can't wait for National Food Truck Day ! Happening this Friday, June 29, 2018, Roaming Hunger has set out to make it the biggest Food Truck holiday ever.
There will be more than 800 food trucks across the country that'll be participating and offering delicious food of all tastes.
At the beginning, people thought they'd disappear within a few years, but Food trucks have proven they are not a fad. According to a study conducted by the U.S. Chamber of Commerce, a city's openness to food trucks is indicative of its overall entrepreneurial growth.
"This year is about celebrating the entrepreneurial spirit of our industry," says Ross Resnick, Founder and CEO of Roaming Hunger. "Our goal is to make National Food Truck Day a holiday that the entire food truck industry can own. Whether you're a food truck or a service that supports the industry, we want it to be bigger than Roaming Hunger."
National Food Truck Day Across The Country
These 800 food trucks (and more!) will be roaming in more than 20 major cities all across the U.S., including New York, Los Angeles, Chicago, Seattle, Austin, and many more. Many will be offering promotions such as BOGO items, free drinks, and discounts.
[wp-amp-ad type="adsense" width="250″ height="100″ data-ad-client="ca-pub-3243430308001408″ data-ad-slot="5537583176″][/wp-amp-ad]
How Can I Support my Favorite Local Food Trucks?
This year, the organizers want you to help support your favorite participating food truck through social media. By posting a photo of your meal with #FoodTruckDay, you can help your favorite participating truck win $500. The food truck that gets the most people posting about them on Twitter and Instagram using #FoodTruckDay wins.
About Roaming Hunger
Founded in 2009, Roaming Hunger tracks the emerging movement of gourmet food trucks. To learn more about Roaming Hunger, visit http://roaminghunger.com/.
About The Creator of National Food Truck Day: Rick McNeely
Known as "DJ Rick," the creator of National Food Truck Day is a Radio DJ for Fishbowl Radio Network in Fort Worth, TX. Along with creating National Food Truck Day, Rick is also the founder of National Selfie Day. You can follow him on Twitter @rickshotz.
So guys, on this National Food Truck Day, try and say 'Thank you' to this small army of entrepreneurs. Thank them for their very hard work, for making our communities a nicer place to live, and above all else, making our lives more delicious 🙂