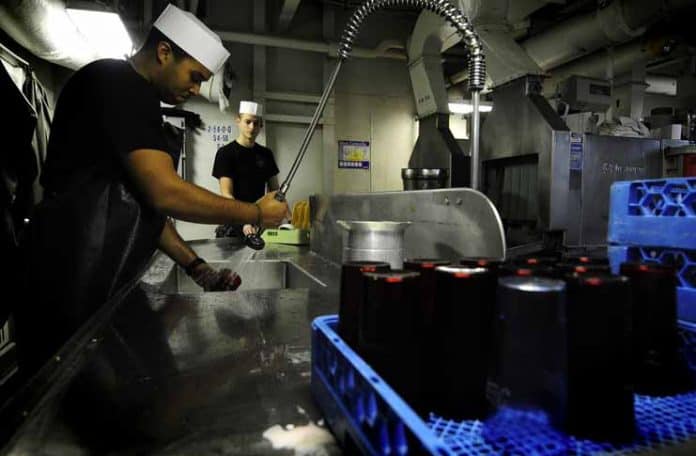 In an environment where food is prepared, a dishwasher plays a major role in ensuring that there is a supply of clean utensils. This means that the dishwasher should work well for hygiene reasons. Even if you have a dishwasher at home, buying a commercial dishwasher is a completely different affair. Here are some things that you need to consider:
Capacity
Commercial dishwashers tend to have shorter cycle times; this means that you can wash large volumes of dishes in a fast and efficient manner. When choosing a dishwasher, you should think about the number of dishes that you need to do and how fast the cycles are. For instance, if you are in a catering environment, you might do several cycles in one night but a single cycle will suffice for a small restaurant.
Types of Commercial Dishwashers
You need to choose an appliance that will fit your kitchen space. The different types of dishwashers for commercial use are:
Glass washers – these are ideal for bars and pubs. Some glass washers such as Norris Glasswashers have a cold final rinse, which means that you can use the glasses immediately.
Under counter dishwashers – they look like home dishwashers, can run all day, and clean your dishes in minutes.
Cutlery polishers – if you are catering for large groups of people, you can use a cutlery washer to polish your cutlery
Utensil/pot washers – these are heavy duty dishwashers that are designed to be used in the kitchen
With all the available options, you should do plenty of research to ensure that you end up with the right product.
Cycle Time
How fast do you need clean dishes? Unlike a home dishwasher that takes an average of 45 minutes to finish the dishes, a commercial one can take as little as a minute to finish washing a stack of plates. However, if you are washing pots, the cycle should be longer to meet the required standards of hygiene.
For a commercial environment, a large and freestanding unit is the best one. Because there are different washing cycle lengths, you should save the longer ones for stubborn stains.
Size
In commercial kitchens, space is very important because many people work in the congested areas. For this reason, you need to get a dishwasher that does not interfere with your day to day operations. If your space is not enough for a freestanding dishwasher, you can go for an under-the-counter unit.
You also need to consider the number of dishes that you will be doing on a daily basis. For instance, if you need a dishwasher for a restaurant, you should make space for a pot washer. On the other hand, if you run a bar, a glass washer is the best choice for you.
Health and Safety
When working in a kitchen, your top priority should be health and safety. Some of the things that you should consider when choosing a commercial dishwasher are:
Lifting – if you are working in a busy kitchen, it will be dangerous to lift heavy racks onto the dishwasher. You should consider using conveyor dishwashers in such cases.
Access – will you need to bend over all the time to use a dishwasher? A pass-through dishwasher is the best choice if you want to avoid bending.
Temperature – opt for a machine with high temperatures for the rinse cycle if you want the dishes to be sanitized properly. Moreover, high temperatures are necessary to meet all the health and safety requirements.
You should consider all the above things if you want to choose the best commercial dishwasher. A commercial kitchen needs to run like clockwork and the dishwasher that you choose plays a part in that.
Another important issue to remember when opening a restaurant and buying equipment, is to always evaluate your restaurant's safety performance. You'll need to grow an engaged safety culture during the days of COVID-19 and the days that will come after. For David Rowland, Head of Marketing at Engage EHS, any business owner needs to have an in-depth knowledge of health and safety policies and practices. In the long run, it will improve the bottom line and grow the brand's loyalty among clients.