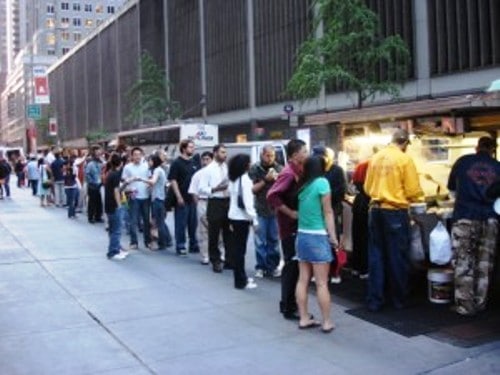 One of the most popular food carts in NYC opened a storefront in the East Village during the first week of November 2013.
The original Halal Guys cart on the SW corner of 53rd & 6th was a Vendy Cup finalist in the very first Vendy Awards back in 2005. They have since expanded to four carts in total, all in the same general area of 52nd-53rd St and 6th-7th Ave.
They have been featured in numerous travel shows and publications. When we get contacted by foreign publications to discuss street food, the 53rd & 6th Halal Cart invariably comes up.
So what do you do when the midtown halal cart scene is saturated? Open a storefront in another nabe, natch.
DNAInfo reports the Halal Guys will be opening the first week of November on 14th St and Second Ave.
In addition to their regular menu of gyros, falafel and chicken over rice, they may be offering more nutritious items, such as a juice bar and vegetarian dishes.
Co-owner Khalid Ahmed said "We don't want to eat the same thing every day."
The 14th Street location, first reported by the blog EV Grieve, will be open nearly 24 hours a day, from 7 a.m. to about 5 a.m., Ahmed said.
"Our customers have been asking for this," he said. In addition to suggesting the storefront, customers have also been asking for an expanded vegetarian menu, with more options than just falafel, Ahmed said.
Prices at the store will mirror the prices at the carts, with dishes such as chicken over rice going for $6 at all locations, Ahmed said.