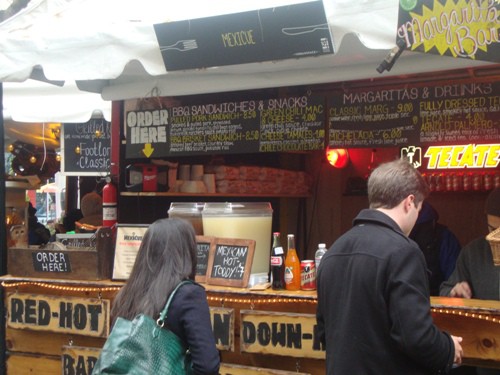 Even though we heard about Broadway Bites a couple of weeks ago, we didn't get a chance to check it out until this week. Broadway Bites is set up between Broadway & 6th Ave, running from 32nd-33rd St.
A lot of the same vendors from Madison Square Eats are here, including favorites like Roberta's, Asia Dog, Sigmund's, Bar Suzette and a bunch more.
What brought us here was a chance to preview Thanksgiving, with Mexicue's Thanksgiving Sandwich ($9).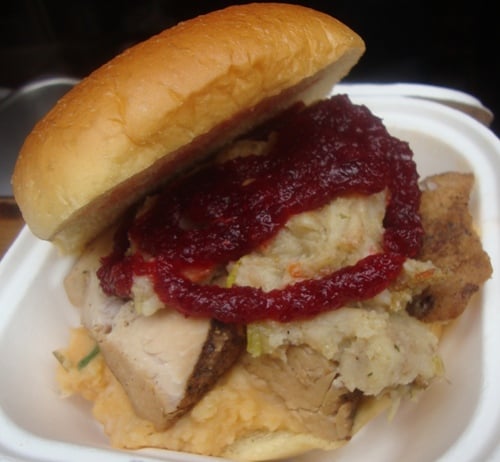 The Thanksgiving Sandwich is not available at the Mexicue truck, but it is available at their store located at 345 Seventh Ave (btw 29th-30th St), and of course, at Broadway Bites.
The Thanksgiving Sandwich starts with chipotle cheddar mashed potatoes on the bottom of the roll. They're similar in color to mashed yams, but cheesier, with a little kick from the chipotle.
On top of the mashed was chorizo stuffing. Stuffing is not usually one of our favorite parts of the Thanksgiving meal, but this was nice and herby…and it had chorizo!
The next level was where the house smoked turkey was found. We're not talking thin slices of turkey breast, but several large chunks of smoked turkey. The smokiness was even discernable.
Our favorite part of the Thanksgiving meal (other than dessert) is cranberry sauce. At home, our cranberry sauce is generally heavy on clove and cinnamon, but Mexicue's cranberry sauce was chili oriented. It's not something we've tried before, but the chili cranberry sauce was damn good!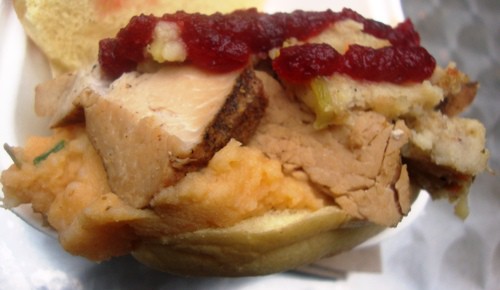 Mexicue's Thanksgiving Sandwich was really delicious – a spicy Thanksgiving meal on a bun. Initially, we were wary of a sandwich with mashed potatoes and stuffing on a roll (among other things), but it worked out great.
The Broadway Bites market is open every day from 11am-9pm, through this Sunday, November 24th. With their evening hours and location by Herald Square and Penn Station, you can get lunch…or a great dinner on your way home.
The complete list of Broadway Bites vendors can be found here.