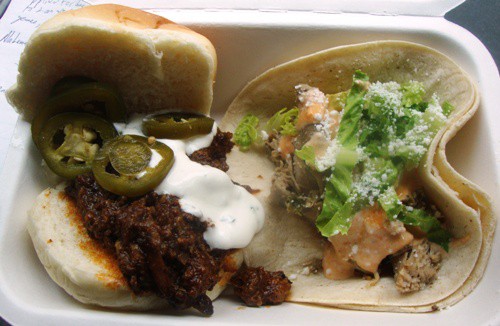 We're always looking for ways to save money, and Mexicue Truck is making it easy.
All you have to do is go online and place your order…and voila…20% off.
You can order from their website, order from Facebook, or order right from your phone with the free Mexicue app.
How much easier can it be?
The fine print: The discount only applies to your first online order. Delivery is only available from their store at 345 Seventh Ave (btw 29-30 St), but they have a pretty big delivery area.
Mexicue Truck News 1 – A few days ago, we saw this tweet: @Mexicue to Open at Monday Properties' at 1440 Broadway. For the full article: http://t.co/dc7uFblQ9v. Long story short – Next year Mexicue will be opening a storefront on 40th & Broadway with over 1,100 square feet of space. Congratulations to Dave and Thomas and the whole Mexicue crew.
Mexicue News 2 – The Mexicue truck storefront on the LES has closed. We're not sure exactly when it closed, but the space is now a bakery.