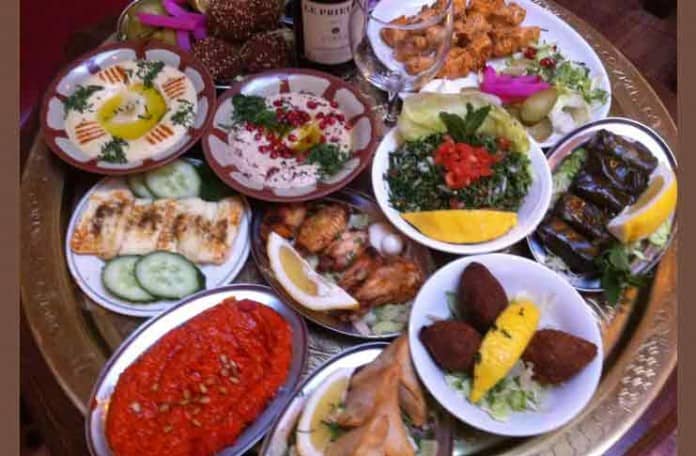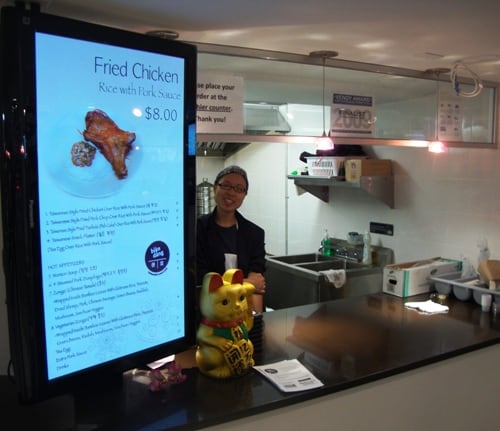 Last time I went to the NYC Cravings truck, Diana told me the truck was closing for the winter because they were opening a restaurant within a food court in Koreatown.  She also said the new place was called Bian Dang (Mandarin for "lunch box") and the truck's name would also be changed to Bian Dang next spring when it returns.  She didn't really want to be in the picture above, but I coaxed her out from behind the sign.
I walked into the shiny, new "International Food Emporium" called Food Gallery 32 at 11 West 32nd St (bet 5th & 6th Ave), went towards the back to Bian Dang and said hi to Diana.  I asked her how it was going, and she said things seem to be picking up as more people hear about Food Gallery 32, but she was also looking forward to getting back out on the street in the spring.  The energy of the New York streets can certainly be addictive!
Food Gallery 32 has 3 floors with over a dozen (mostly) Asian food vendors.  I'm not going to review the various establishments serving there because that's not what New York Street Food is about.  But when a street vendor crosses over into a "brick-and-mortar" establishment, we're going to do our best to check it out.
Since I had Bian Dang's fried chicken and pork chops only a month ago, I decided to make a meal out of several appetizers.  Today's Lunch is wonton soup ($4), pork dumplings ($3) and zongzi ($4) from the new Bian Dang counter in Food Gallery 32.  (In case you're wondering, the fried chicken and pork chops are prepared the same delicious way as on the truck.)
One note: Food Gallery 32 has a centralized ordering system for every restaurant, so you order up front, then go to the appropriate restaurant to pick up your order.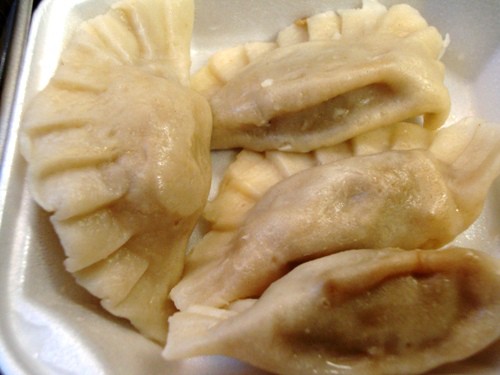 The first thing I tried was the pork dumplings .  They had a nice appearance with crimped edges, and the dough was good – not too hard or soft.  I was a little surprised there was no dipping sauce included, but the ground pork filling seemed to have a soy sauce taste to it.  Some pork fillings can be a little bland, but these were pretty tasty, with a light sweetness.  Some pieces of chive were mixed into the meat .  I was happy with the dumplings, which were 4 for $3.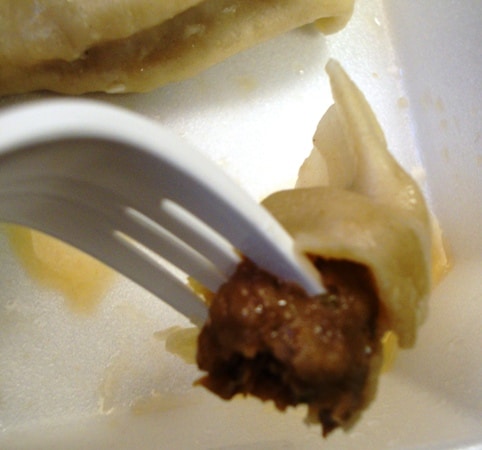 Wonton soup was a new item they hadn't sold on the truck.  It contained a lot of greens and even more wontons.  The wontons were significantly smaller than the dumplings, but there were at least a half dozen of them.  The tops of the wonton wrappers were extremely soft, almost gelatinous in texture, and some of them fell apart.  The wontons were ok, but they fell apart too easily.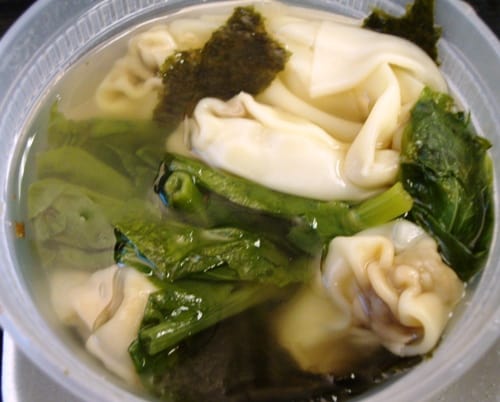 The broth in the wonton soup had a fairly strong taste from the greens.  This was fine for me, who likes a lot of greens in my wonton soup, but if you're not a big fan of greens (or the taste of greens in broth), this wonton soup is not for you.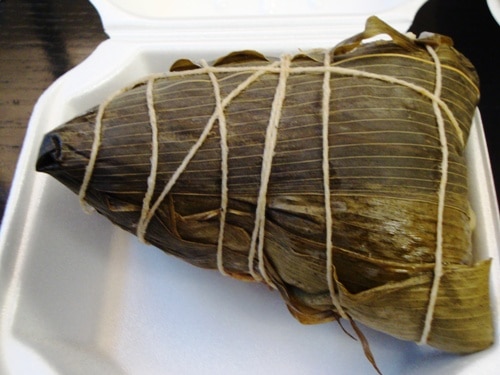 I've had Bian Dang's zongzi before, which they describe as a Chinese tamale, and is also called sticky rice or sticky rice in lotus leaf in other places.
First you take off the string, then unwrap several large leaves.  Inside the leaves is a mound of rice, and inside the rice is a veritable goody bag with Chinese sausage, peanuts, mushrooms, ground pork, soy beans and a little bit of greens.
The rice in zongzi can sometimes be too salty, but Bian Dang's zongzi was not.  This is a very tasty dish , and quite filling for $4.  It can be a bit tricky opening it up and peeling some of the rice off the leaves, but I really enjoyed it, with all the different bits steamed inside the rice.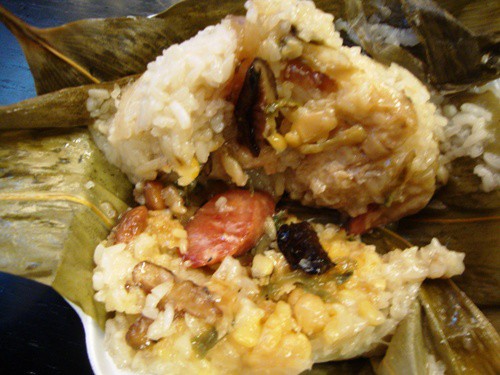 All in all, this was a pretty good lunch, although two of these items would have been enough for me, and I have a pretty big appetite. Both the zongzi and wonton soup were plenty filling.  Either of those with dumplings would have been a perfectly good lunch.
The food at Bian Dang is the same food served on the NYC Cravings truck, which got them a Vendy Award nomination in 2009 in the Rookie of the Year category.  It's good to see that the quality of the NYC Cravings truck has been maintained, and we wish Bian Dang well with this new venture.
Now you don't have to wait until the spring to get your Taiwanese fried chicken and pork chops!