One of my best tricks to get through the cold winter every year is my habit of having at least 2 or 3 different winter drinks every day. It's not only about hot drinks that can warm you up, like my favorite Viennese Hot Chocolate. It's also about boozy festive drinks that can break that icy winter mood. 
There are plenty of yummy winter drinks options out there. Some are with sweet flavors like maple syrup, eggnog, or apples. Some are hot and cozy (and best to drink after a long ski day) like the mulled apple cider or Gluhwein. And some also don't contain any alcohol at all, like Virgin Mojitos or non-alcoholic Sangria. 
In this post, I'll discuss 5 of my favorite winter drinks, and hopefully, you'll enjoy one of them this season.
5 of My Favorite Winter Drinks:
1. New York Sour
As a writer for NYSF, it's natural that a New York drink would be my No. 1 on this list. So what exactly is a New York Sour? Well, basically it's very similar to the Whiskey Sour, but it has a float of dry red wine. I love mine with Shiraz. 
Did you know that the New York Sour is an IBA official cocktail? The IBA official cocktails are those selected by the International Bartenders Association (IBA) for use in their famous annual World Cocktail Competition in Bartending. 
So what's in a typical New York Sour? A bit of bourbon, lemon juice, simple syrup, and red wine float.
2. Gingerbread Latte
Yes, we all probably know Gingerbread Latte from Starbucks, and yes – it's a classic Christmas flavor. But to be honest, this winter drink is one of my best tools to make my winter mornings much more joyful.
I believe Gingerbread Latte shouldn't just be our Christmas coffee drink. It should be our official Winter Coffee drink. Its sweetness and festive nature make it a great mood swinger, not to mention that it's pretty easy to make. 
So what's inside this wondrous winter drink? A good Gingerbread Latte is practically a combination of warm spices like ginger, cinnamon, and nutmeg that can make your heart melt, every single morning, no matter how cold it is outside.
Aside from the warm spices, for my homemade version of a good Gingerbread Latte, you'll need Espresso, Molasses, Maple syrup, Vanilla extract, and Almond milk (my favorite milk these days).
So no need to go to Starbucks for your next morning coffee. Make your own Gingerbread Latte at home!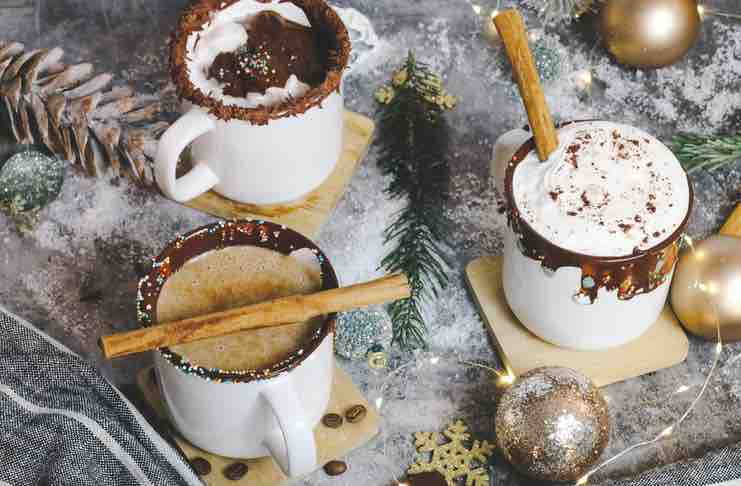 3. Vodka Martini
Who hasn't tried at least once, James Bond's favorite drink, Vodka Martini, shaken, not stirred? This cocktail drink definitely got its media boost from the famous British Secret Service agent, 007, but it's a lovely winter drink for Friday or Saturday night outs. 
What's exactly inside a Vodka Martini? Very simply, a good Vodka, dry Vermouth, and Ice. If you're not familiar with Vermouth, it's an aromatized fortified wine that is flavored with different herbs, spices, roots, seeds, and flowers. 
The ingredients of a Vodka Martini are then chilled either by shaking or stirring. Some favorite ways to garnish your drink is by adding an olive, capers or a piece of lemon.
Want to make your own at home? Here's a good recipe for a vodka martini. 
4. Viennese Hot Chocolate
I never heard anyone say no to a good hot chocolate on a cold winter day. If you have family or friends who don't really like it, try to introduce them to the world-famous Viennese Hot Chocolate. 
I used to live in Vienna back in the days during my childhood, so I know this sweet and savory drink inside and out. It was the only way I would end up a long day of playing outside in the snow. 
What exactly is a Viennese Hot Chocolate and why is it so special? The unique ingredient in the famous Heisse Schokolade Wiener Art, as it's called in Vienna, is the egg yolk. This is what gives the Viennese hot chocolate its very thick, rich, and yummy consistency. 
Want to try this at home? Here's a great recipe.
5. Warm Spiced Gluhwein
Ever since I learned how to ski, Gluhwein has been part of my life. It's a very traditional (German in origin) winter drink that is popular across most Christmas markets in Europe, and especially in Ski resorts.
So what exactly is Gluhwein? It's actually mulled wine, or spiced wine, served hot, which is made from red wine and different spices.
Want to try this famous German winter drink at home? Check out this recipe. 
As you can see, you don't need to let the cold gloomy winter put you down. With a few different winter drinks every now and then, you can lift up your (and your loved ones) spirit in no time 🙂
Want to read more of our latest posts? Check out Faith Rein's Food Journal as she begins her new career in the Home Baking Business.
Faith Rein's Food Journal: Beginning a New Career in Home Baking Business
Business woman. Traveler. Self-Declared Host. If you're here, you know the amazing, hits-the-spot feeling of good coffee. The key to my heart (and to keeping the engine running) is coffee, and I've sipped and savored A LOT of coffee over the years and around the world. I'm on a mission to bring great coffee and the warm fuzzy feeling of coffee culture into your home and life, every cup, every day, every time.