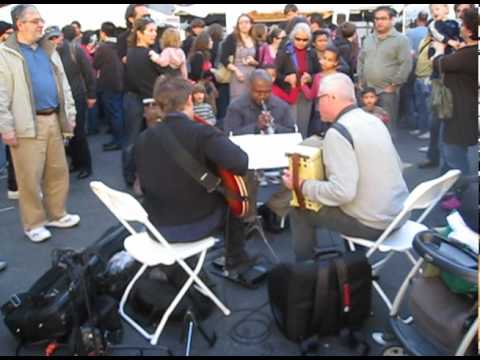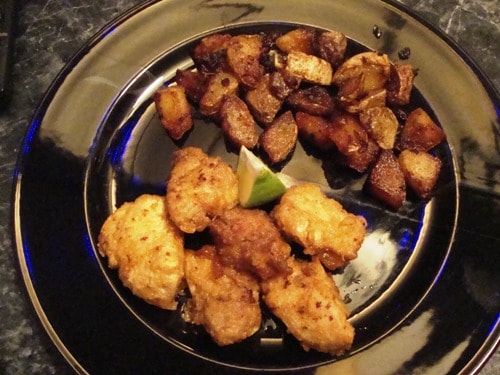 Not long ago, we were stuck in San Juan, Puerto Rico overnight because of an airline snafu on the way back from vacation.  Since it was their screw-up, the airline put us up in a hotel and gave us meal vouchers.  The closest place to the hotel to use the meal vouchers was packed with locals, and I had chicarrones de pollo for the first time.  They were a form of chicken nuggets, but much tastier with a Latin flavor.
Here's Friday's Recipe – chicarrones de pollo.
1/2 cup amber or dark rum
1/4 cup lime juice
1/4 cup soy sauce
1 tbsp sugar
1 1/2 lbs chicken thighs cut into 1 1/2 inch pieces
vegetable oil
1/2 cup flour
1/2 teaspoon salt
1/2 teaspoon paprika (hot if you want it spicy, sweet if you don't)
lime wedges and hot sauce for serving
1. Stir together rum, lime juice, soy sauce and sugar in a bowl until sugar has dissolved. Add chicken to marinade and let marinate for 30 minutes.
2. Pour oil into skillet so it is at least half an inch up the sides.  Heat oil until a drop of water sizzles when dropped in.
3. Whisk together flour, paprika and salt in a bowl. Remove chicken from marinade and pat dry with paper towels. Dredge chicken in flour mixture.
4. Fry chicken in batches, about 3 minutes per side, until golden brown and chicken is cooked through.
Serve with lime wedges and hot sauce. Enjoy!