Thinking of starting a food business in The Big Apple? Well, if you have all the information you need, you'll be able to start your own food business in NYC in no time. 
NYC possesses everything in food and dining possibilities, comprising great cuisines, from Michelin Star restaurants to simple diners featuring all sorts of comfort food. New York City is a city of districts, and the gastronomic offerings vary immensely within a given district.
Also, surprisingly, NYC is unusual in that it may be easier to launch a brick-and-mortar restaurant rather than obtain a license for a food truck, that usually has a very long waiting list.
In this article, we'll help discuss the information about licenses, permits, and fees you'll need in order to get started with your food business in New York.
Permits Required for Restaurants and Food Trucks
In New York, first, you have to acquire a basic business license and health permit. You also have to register your business with the IRS. Registering with the city and state is also a necessity in order to charge turnover taxes which you're required to remit to the state's fiscal administration.
You are able to register your food business online. It's a good idea to save your login information because you can use your tax account for additional services such as managing labor online, etc.
Registering With the Health Department
You have to register your restaurant or food truck business with The Health Department. The requirements differ significantly, on the basis of the kind of food you sell. You may qualify for a Home Processor exemption, but commercial food has to be made in a commercially approved kitchen.
Aside from obtaining your Health Department Permit for your business, you have to comply with different food safety regulations as well. Additionally, restaurants must show proof of workers' comp and disability insurance to obtain their health department permit.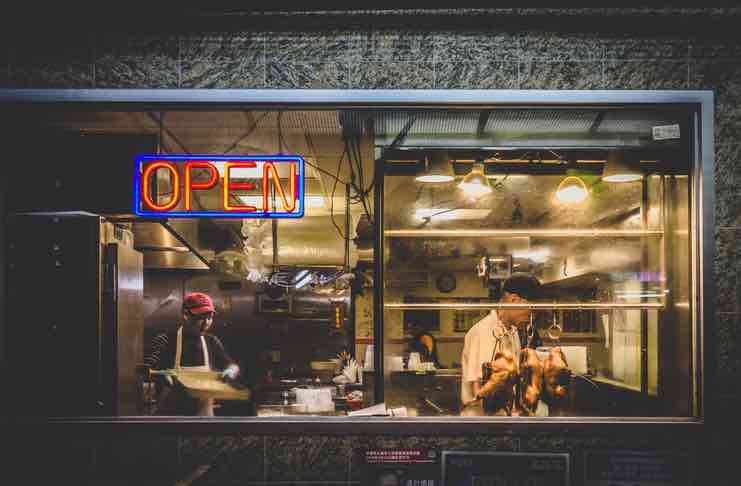 Also, it's a wise idea to get insurance for business owners that combines the two most important types of business insurance, general liability insurance, and commercial property insurance into one package. 
Furthermore, your building plans have to be approved, and your food manager must pass a food safety examination. The Health Department's online course in food safety is free, and the testing cost is just $24. 
Business License Costs
Applying for a restaurant license or food truck permit in New York City demands getting a Food Service Establishment Permit or Mobile Food Vending License. Usually, the cost of a business license in NYC runs from $100 to $120, depending on the city's district. 
The Food Service Establishment Permit cost is $280, plus $25 additional if you plan on preparing certain desserts. Food truck permits cost $50 for a full two-year license period. Seasonal food truck licenses cost $10 for operating from April to October.
Fabricated Business Name
You have to file for a Certificate of Assumed Name if you plan to operate your food business under any name different from your legal name or the name under which your business is legally recognized. 
That certificate needs to be registered at the same time as your business' incorporation documents. If you register your business as a Sole Proprietorship or Partnership, you register with the county clerk of the district where your business will operate. The cost for registering is $34 for a partnership and $33 for a sole proprietorship.
Licenses Required for Brick-And-Mortar Restaurants 
It's crucial to pick the right legal structure for your NYC restaurant business and the perfect location. The permits and registrations only run from $500 to $1,000, however you may spend a lot on various permits, getting a liquor license, or reconstructing your property in order to meet health department requirements. Picking a sole proprietorship, partnership or corporation decides the rate of tax you pay on your revenue. 
If you are applying for a Mobile Food Vending Permit you must first apply for a Mobile Food Vending License. That's the step that puts you on the long waiting list which might take 10 years. Once informed that your name has made it to the top of the waiting list, you must apply for a permit at the Department of Consumer Affairs Licensing Center and contact the NYC Department of Health to arrange an inspection for your vehicle. Also, you have to pay the $200 permit fee for a processing food unit or $75 for a non-processing food unit.  
Final Words
Whether you choose to go with a mobile vendor opening or pursue launching a restaurant in NYC, you must plan accordingly. Running a food business is ambitious and you must get all the required licenses and permits before embarking.
Want to read more of our latest posts? Check out our short wine spritzer guide.