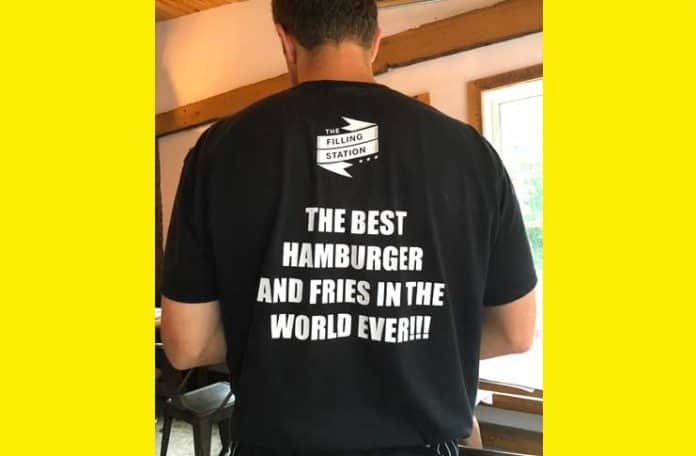 By Kate E. O'Hara
Although I was close to having my waist-band bust from all the indulging at the 9W Market (if you haven't yet – read Part 1 here!), I couldn't leave without trying a burger and fries from the Filling Station. The meal is touted as "the best hamburger and fries in the world ever!!!" And, I agree.
The burger, made from organic brisket, hanger steak and short rib, is ground fresh daily. Charlie, a long time employee, explained that the burgers are seared on a flat top grill so they maintain their natural juices. They literally melt in your mouth. And, the fries…oh the fries…hand cut, with a choice of regular or sweet potato, are fried to perfection and dusted with salt. Veering from my traditional route, I opted for truffle aioli instead of ketchup. It was an excellent choice; the combination of tastes blended into a mouthwatering treat.
I'd have to say that it is a must try for any burger lover. And, paired with one of their local craft beers, it just might be the perfect meal.
So, with a waistband now officially busting, I allowed Agata to talk me into having dessert. I sampled artisanal ice cream (yes, you guessed it; fresh and local). It was dense and creamy and flavorful. Then the array of breads, pastries, and sweet treats is just too much to take in. From the warm chocolate chip cookie (made with…are you ready for this?…Jacque Torres chocolate!) t o the fresh berry pies, to the hand dipped macaroons, one would never run out of sweet tooth options. And, all of which can be ordered with herbal tea, cappuccino or espresso.
On a related note, I must add that Agata is a delightful l person—she is welcoming and energetic, and also passionate about what she does and what her establishments represent. Her presence mirrors that of the friendly staff and the clear philosophy of everything fresh. In fact, in addition to consistent items, the menu changes daily, based on availability of products from local farms and even selections from their own garden.
Depending on the day, or the weather, or the season, you can find bikers, hikers, celebrities, families and friends lining up for their favorite meal or treat at either the 9W Market and Filling Station, with a line of cars known to stretch over a mile long.
As Charlie explained, "It's a destination."
It certainly is. Be sure to take a trip there soon.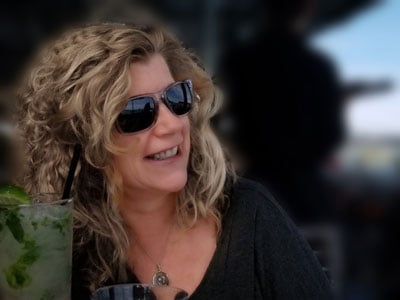 Kate E. O'Hara is a New York based freelance writer and photographer who loves all things food—especially the people who make it and market it. Her writing aims to capture the essence of the food experience; the stories that go well beyond a plate of ingredients. In addition to her love of food, Kate is also known to have a hankering for red wine and craft beer.