By Kate E. O'Hara
Just outside NYC, about 12 miles north of the George Washington Bridge, sits an incredible food oasis—or actually two. As a former gas station (said to be built in 1939), the Filling Station is aptly named. Adjacent is the 9W Market, an open-air natural wood building bustling with energy. Both properties have an unmistakable vacation feel; outside the Filling Station there is white gravel and picnic tables with brightly colored umbrellas, all flanked by clusters of tall grass and potted palm plants. Outside the 9W Market are bistro tables, Adirondack chairs, herbs and flowers, and even a fire-pit. Inside, plenty of delicious food.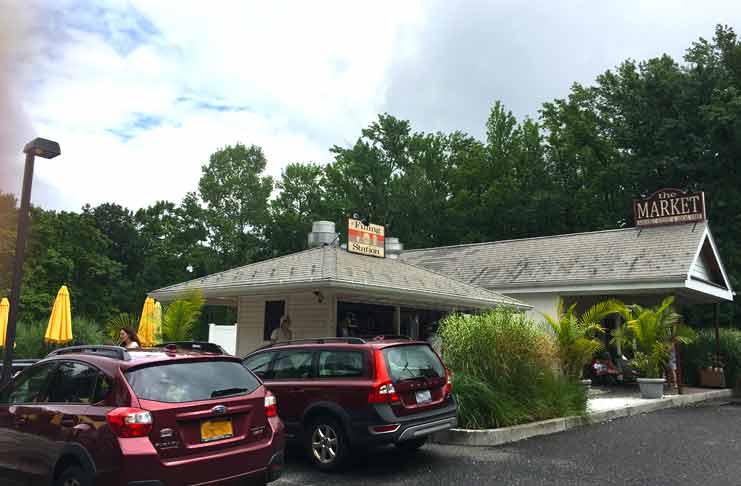 The 9W Market is self serve, with a focus on preparing natural and organic foods, artisan pizza, home baked pastries, cakes, and bread. It is a family run business, and owner Agata Ostrowska suggested I try the egg sandwich. I usually like pepper and ketchup on my egg sandwiches but no additional seasoning was needed for this delectable treat. The flavor was incredible; organic eggs, local cheeses consisting of cheddar, Swiss, and smoked mozzarella. Yum, three cheeses– what more could you want? Well, there was more. The sandwich is topped with the thick cut double smoked bacon, that added a layer of saltiness—all tucked in a crunchy crusted, doughy homemade ciabatta bread. Apparently I'm not the only one who loves the eggs sandwich. Weekend mornings they sell over 300 of them!
But, if breakfast isn't for you, there is no shortage of options. There was an incredible array of salads which truly exemplified their concept of farm fresh. I tried several salads: fava bean, tossed in a tomato puree, onion and olive oil. It was light and flavorful; juicy orange and red heirloom tomatoes with a touch of olive oil, basil, and shaved parmesan (Yum, more cheese); sautéed spinach that was so appetizing, without even a hint of bitterness; quinoa with kale, sunflower seeds and cranberries; wheat berry with cranberry, celery, lemon raspberry vinaigrette enhanced by the inclusion of apricots—it was so light and refreshing. The wheat berry salad was my favorite second to an unexpected surprise—roasted potatoes, served as warm wedges tossed in lemon, olive oil and rosemary. There was a mouth-watering zest to them—perfect to eat as a side or all on their own.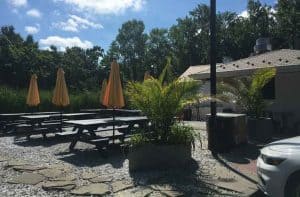 After trying the salads and sides, I knew I had to try the pizza since the aroma was wafting through the air. The 9W Market makes a variety of artisan pizzas, from sausage to cauliflower, but I decided on a traditional margherita. It was fabulous. Sweet tanginess of the tomatoes with the creaminess of the cheese was so flavorful, and some bites even more so with the sprinkling of fresh basil.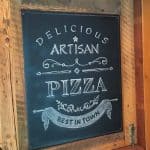 I switched from my morning coffee, and ordered a glass of pinot noir wine to accompany my pizza. As I sipped my wine I couldn't help to notice the uniqueness of the crust; crisp, but yet a soft dough, with a sublet tang to it. I later learned it was homemade sourdough which took several months to perfect. It was well worth the wait—and something I'll be returning for!
But, before I left I had to try one more Market fan favorites: the lobster roll. Since I went the traditional route for my pizza, I opted for the same for my lobster roll. It is made with the meat of a 1.25 pound lobster nestled on a buttered and sea salted roll. (non-traditionalists can order the Connecticut lobster roll which is prepared warm, poached in clarified butter, with celery salt and lemon). What I loved best about the lobster roll was the simple purity of it—no filler of celery, or lettuce, just the succulent meat and homemade mayo. If for some reason your lobster roll wasn't satisfying enough, your roll is served with homemade chips and a roasted corn salad. The entire dish takes you right to the coast of New England…
Keep posted for Part 2 of this culinary trip just outside NYC, where Kate tastes "the best hamburger and fries in the world ever!!!"…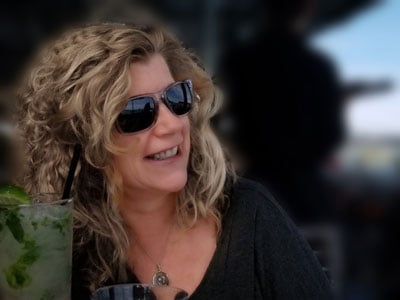 Kate E. O'Hara is a New York based freelance writer and photographer who loves all things food—especially the people who make it and market it. Her writing aims to capture the essence of the food experience; the stories that go well beyond a plate of ingredients. In addition to her love of food, Kate is also known to have a hankering for red wine and craft beer.